Yesterday (Saturday, June 10, 2017), we had the honor of being the Rochester DJ and entertainment of choice for the Pascher Wedding. This was held at a very unique venue, which we played at about a month ago for the Lloyd Wedding. The whole night was so much fun and once again…their guests came to party and have fun. The room had tons of energy right down to the last minute, where even at the end of the night, everyone wanted the music to keep going because there were so many people still on the dance floor. The brides sister did a really fun slideshow and it was presented right after dinner, which was a lot of fun to watch and see everyone's reactions. Check out the details below of the Pascher Wedding.
---
Pascher Wedding
Venue: Artisan Works (Facebook | Website)
Photographer: Alex Cooper Photography (Website)
Cake & Desserts: Something Delicious Bake Shop (Website | Facebook)
Kalifornia Entertainment Supplied:
Rochester DJ Services
Pro Club Sound
Intelligent Computer Controlled DMX Club Lighting
White Uplighting
Shure Professional Vocal Series Wireless Mics
Photo Booth & Props
Professional On-Site Printed Pics From The Photo Booth
Bride's Review: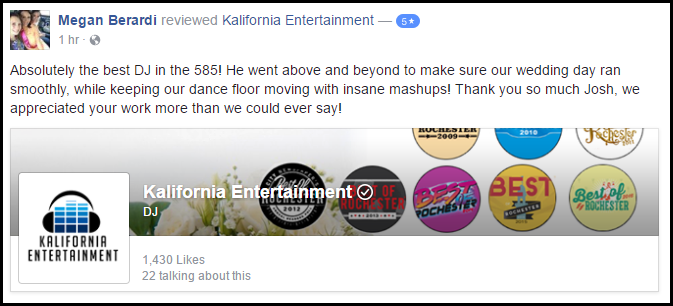 Like the information shown here about the Pascher Wedding? Want to know more about how Kalifornia Entertainment can make your Rochester wedding or event the best it can be? Fill out this form and send us a message, and we'll get back to you right away with more details.