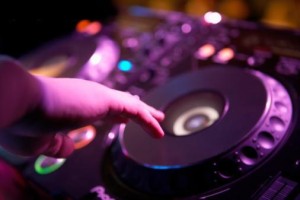 Not all DJs are created equal, and the good ones are worth their weight in gold. But even if you don't necessarily have a whole bunch of DJ options for your wedding (the venue provides it or you're getting married on an island that only has a couple of choices), you can structure your wedding playlist in a way that makes your wedding flow seamlessly even if the guy running the system is dumber than a box of rocks.
Here are 5 Tips For Getting The Most Out Of Your Wedding DJ to help you set things up so that you can relax and enjoy the music you want to hear on your big day!
Establish up front that you are the CLIENT and you are in charge. Let him know if you don't like a talker. Tell him if he has absolutely no room for independent judgment. If you don't want to hear a single song that isn't on your personal playlist, let him know. Lay out the ground rules and don't be afraid to be a little bit aggressive and put it writing, asking him to acknowledge your requests. Many DJs prefer you be upfront and direct. Just don't be rude about it. There's a way to be demanding without being Bridezilla. Be a little nicer if he's your only option at the venue.
Be very specific about your playlist and, if he doesn't give you a good form to work with, create your own and include the following categories:
Ceremony
– Prelude music
– Music for the bride's processional
– Recessional music
Reception
– Cocktail music
– Dinner music
– Entrance song
– First dance song
– Father/daughter dance song
– Mother/son dance song
– Cake cutting song
– Bouquet/garter toss songs
– Parent song(s)
Decide whether you're going to let the DJ take requests or not, and make sure you're clear on the system with the DJ. If you'd prefer he not take requests, you can ask him to tell people that he doesn't have the music being requested up to a certain point. If somebody gets aggressive, he might have to explain that the bride and groom have requested no spontaneous requests.
Be VERY SPECIFIC about your "Do Not Play" list. Those are the songs you really, really don't want to hear at your wedding. You never know what your friends may request, and you're better off making sure the DJ knows at the outset exactly how you feel about that.
Get your playlist to your DJ as early as possible. Every DJ has a different system, and some of them need time to make sure they have all your music ready in time for your wedding. At the very latest, have all song selections to your music master no less than 30 days prior to your wedding date.
If you're not working with a wedding planner, or you don't trust the recommendations of the venue's banquet manager, do your own homework and research and see what other brides who got married in your area had to say about their own DJs. Angry and dissatisfied brides blog…fairly or not. But you'll be able to tell who sounds like a bitter crazy person and who had a legitimately bad experience. Hopefully, you can learn something from their bad experiences rather than repeating them yourself.
Want to know how Kalifornia Entertainment is rated and reviewed? Check out our reviews by many happy clients on RochesterWeddingDirectory.com.