Last night we we're at it again as the Rochester DJ and wedding event entertainment vendor of choice for the Tantillo Wedding. It was held at a venue that we never played at before, but have heard a lot of great things about. We were amazed at how beautiful everything was. The bride and groom were going for a classic feel and atmosphere. Cocktail hour and dinner music consisted of classics such as The Rolling Stones, Stevie Wonder, Van Morrison, Abba, Tom Petty, Billy Joel, David Bowie, etc. But then once party mode started, we brought the energy and fun with music catered to every age group, which kept the dance floor completely packed from beginning to end. We worked alongside some amazing vendors, including a very very talented photographer (be sure to view his work by clicking the links below). So, check out the Rochester Wedding details of the Tantillo Wedding below.
---
Tantillo Wedding
Venue: Inn On Broadway (Website | Facebook)
Photographer: Beanart Photography (Website | Facebook)
Flowers/ Center Pieces: Kittelberger Florists (Website | Facebook)
Wedding Cake: Cheesy Eddies (Website | Facebook)
Kalifornia Entertainment Supplied:
Rochester DJ Services
Professional Digital Sound
SHURE Professional Series Vocal Wireless Mics
White Uplighting
DMX Computer Controlled Intelligent Dance Floor Lighting
Bride's Review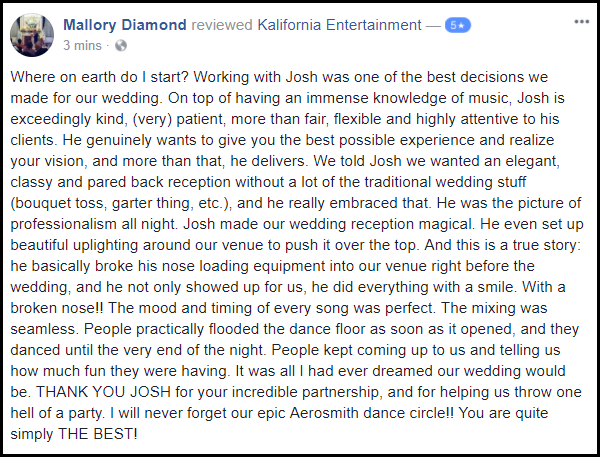 Back Story To This Review:  I was loading stuff up on my equipment cart and I had it all secured with bungee straps. One of the straps broke and the end flew up and hit me in the face. It was pretty bad and the venue staff pretty much thought I broke my nose on the spot. It was nasty, it was purple, I had partial black eyes, it was bruised horribly and it looked REALLY bad. Had the strap went an inch to either the right or left, I would have lost my eye without a doubt. This all happened right when I got to the venue, which meant I looked like I went a few rounds with an MMA fighter for the whole night. As a professional, you sometimes have to put aside things in order to give clients the best night of their life, and that's exactly what I did. I ignored the fact that I had almost broken my nose and made sure everyone in attendance had the best time ever! The show must go on, regardless of what you may be going through. I'm happy and honored to share this 5 star review from the bride and it tells you exactly what type of ethic I have when it comes to assuring that those who book Kalifornia Entertainment WILL NO MATTER WHAT, have an amazing wedding or event! The nose is just about healed, the bruise is fading and all is good. In this industry, you'll get bruises, you'll get cuts, you'll get sore muscles and injuries. But if the client is extremely happy at the end of the day, then it all makes it worth it! 
— Joshua V. (DJ Kalifornia)
Like what you saw here for the Tantillo wedding? Want to learn more about how Kalifornia Entertainment is the absolute best choice as a Rochester DJ and event or wedding specialist? Fill out this inquiry form and send us your details. We'll be glad to get back to you and discuss your vision of the perfect event and Rochester wedding!