Saturday, June 18, 2016…we had the pleasure of being the Rochester DJ and wedding entertainment company of choice for the Chandler Wedding and ceremony. It was a beautiful day, with an outdoor ceremony over looking the hills and scenery. The groom is an avid Corvette fan, and not only did he have his mint condition old school corvette there, but there were 3 others right next to it, in the area where the ceremony was being held. It made for a great photo opportunity!
The guests were awesome and came to party. The dance floor remained full right until the very end of the night, and we received many many compliments on it being the best wedding they have ever been to, as well as DJ Kalifornia being the best DJ they have ever heard. Wonderful compliments to have for sure! Check out more info and pics below…
---
Chandler Wedding
Venue: Woodcliff Lodge & Spa (Website | Facebook)
Cake: Woodcliff Lodge & Spa
Flowers: Rockcastle Florists (Website | Facebook)
Officiant: Pat Marks (family friend)
Photographer: Images Unveiled (Website | Facebook)
Kalifornia Entertainment Supplied:
Ceremony Sound, Mics and PA (see video below of sound check)
Unlimited time
DJ & MC Services
25 uplights
Computerized DMX controlled club & laser lighting
Monogram lighting on the dance floor (bride & grooms name with date)
Photo booth with props
Professionally on-site printed photo strips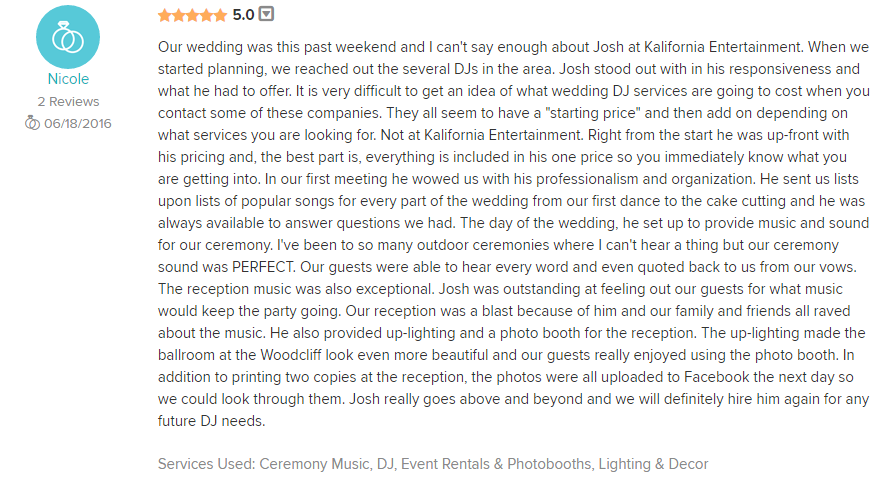 Those who have seen the movie Clueless, will notice the song we used for sound check was the song in the final wedding scene at the end….