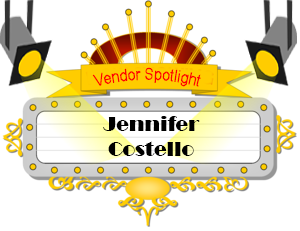 Vendor Spotlight – Jennifer Costello
Over the years, wedding traditions have changed quite a bit.  In the old days, it was very common to get married in a church by a priest.  Or if you were not at all religious, you would go to a local court house and have a judge marry you.  But in today's society, there are many different ways to have someone marry you.  One of the most common things to do is to hire an outside officiant who is licensed and can marry anyone who is looking for a non-denominational type of wedding.  Kalifornia Entertainment has had the privilege of working alongside Jennifer Costello, who is one of our preferred vendors, and can offer different types of officiant services for her clients.  We have passed a long quite a bit of amazing clients to her, and she has referred us to many as well.  So for our latest Vendor Spotlight, we sat down with her to get an idea of what's involved with being an officiant and how much goes into creating the perfect ceremony for so many people every year!
Vendor Spotlight – Jennifer Costello
---
Kalifornia Entertainment: Hi Jennifer.  Thanks for taking some time to speak with us.  We know you're one of the best out there and are super busy with a lot of weddings this year, so we won't take up much of your time.  Let's begin, shall we?  How did you first get into wedding officiating?
Jennifer Costello: Back in 2010, two of my close friends were getting married and struggling to find someone who could weave together their two belief systems.  I suggested they look into having a friend become ordained.  To my surprise, they asked me! I so enjoyed creating their ceremony and marrying them so much that I started looking at offering my services to other couples.  I found that there are many couples that are looking for a more personalized ceremony that fits just them as a couple.  Because of that, I've met so many great people.  As a middle school English teacher during the day, officiating really weaves together two of my loves…writing and weddings!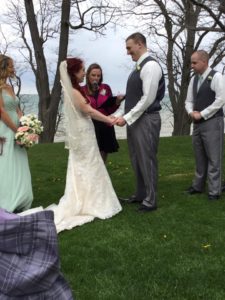 KE: 6 years is a long time to be marrying people.  We can only imagine how many AMAZING couples you have done in that timeframe.  We have to say though, having that skill of writing means you have an upper hand in creating beautiful ceremonies for people that not many others in your industry are able to do.  Great skill to have for sure. What is your favorite part of the job?
JC: I love officiating so it's hard to narrow it down to just one favorite part.  I love meeting people and learning their stories – what brought them together, how they met – and then weaving that into their perfect ceremony.  Another favorite is when the bride first walks down the aisle.  I have a front row spot to the families and fiancées reactions and to witness the love brings tears to my eyes almost every time!
KE: We're the same way.  Getting to know the bride and groom in every way possible to learn what brought them together is one of the best aspects of being a wedding vendor.  It also puts people like us at the forefront of things because we take that time to really know who our clients are.  So many vendors never take that time and their services lack because of it.  What's the biggest lesson you've learned and would pass along to other officiants who are just getting started?
JC: Start slow and really get to know your couples.  My first year, I did about five weddings.  That really allowed me to get to know each couple and spend a lot of time putting together their ceremonies.  Each year I've increased and I have about 23 weddings this year.  However, now I have a better handle on what I'm doing.  I have a questionnaire I use to get to know couples, contracts, tons of examples, rehearsal schematics, etc.  Don't spread yourself too thin that you can't accommodate every request.
KE:  Sound advice!  What's your favorite wedding you've officiated?
JC: I've officiated a lot of weddings recently that involve kids.  Many couples chose to write vows to their children and we work together to find ways to include their children in the ceremony.  These are probably my favorite as they are so heartfelt, everyone is usually in tears by the end!
I also once officiated a wedding in the pouring rain.  The bride's dream was to get married outside in front of the falls and she was going to do it no matter what. Everyone was so relaxed about it and it made for a great story!
KE: As much as we would love to DJ outside in the rain, I don't think people getting fried by all the electrical equipment would go over so well. *laughing* Do couples ever want strange vows added into their ceremonies?
JC: YES, but that's great.  The more personal the better.  I once had a couple use video game directions in their vows and somehow it worked.  It was the perfect blend of romantic, yet fun-loving and represented who they were together!
KE: Video games are a popular thing for a lot of couples these days.  We once did a reception where the groom was a part time game designer.  He built this whole animated gamig video that showed how he and his wife came together and what the rest of their life would be like.  It was super cute and awesome.  He took a lot of time making it, and we supplied a large screen and projector for it to be played all night throughout the reception.  It was probably one of the coolest things ever.  Are there any ceremony trends that you absolutely love or would like to see left behind?
JC: I love how couples are thinking outside of the box and making their ceremonies more about them and their love story than just traditional cookie cutter ceremonies.  Rarely do I see 'sides' in a wedding, but more an 'everyone's family' feel.  I love the special touches people are coming up with… Glass, sand, wine, love letter ceremonies… They're all so personal!  Recently I worked with a couple that is incorporating Disc Golf into their ceremony as it's their 'thing.'  People will remember that ceremony for ever as it truly represents who they are!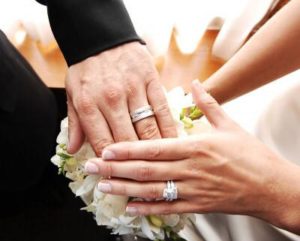 KE: Cookie cutter is never the way to go.  We tell everyone we meet, "Break away from traditionalism and make your wedding day unique!"  We have said it time and time again…no one wants their wedding to feel like everyone else's.  So props to you again for being able to make your client's ceremony unique and pinpointed to them specifically.  Do you normally create the ceremony for couples or do you try to get them to contribute to it?
JC: Usually I meet with the couple first to talk about their dream ceremony – who are they?  What is their vision?  What do they want to include or leave out?  And then from there I put together a draft for them to look over.  Anything can be changed, added or deleted and we work together until it's perfect.  I encourage couples to be as involved as they want to be, however, don't require it in any way!
KE: You really put a lot of effort into these ceremonies and go above and beyond. We can't express enough how wonderful that is.  If you could travel anywhere in the world to officiate a wedding, where it would be?
JC: I'd love to do a wedding at a really picturesque location, somewhere in the Caribbean or Hawaii!  Did I hear you're having a destination wedding, Josh? I'm willing to travel! *laughing*
KE: YES!  My fiancé' and I are definitely going away for a more intimate and fun destination wedding on a tropical beach with friends and family.  So no doubt about it, YOU'RE HIRED! *laughing* Have you officiated any weddings outside of Rochester?
JC: I've done several weddings in the Finger Lakes region, Letchworth State Park and at Esperenza mansion.  I love how many unique and beautiful areas we have in and just outside of Rochester.  Brides are getting so creative with locations!
KE: They sure are.  More and more people are breaking away from that traditional aspect so that the wedding is more memorable, which is so great.  How many weddings do you normally do every year?
JC: I officiate anywhere from 12-25 weddings a year.  I try to only book one per weekend as I want to be available to the couple exclusively.  Things come up, people run late and I never want to be juggling two couple's needs.
KE: We have witnessed first-hand other officiants double and even triple booking on the same day.  It was a mess.  Things were rushed, the ceremony was clunky, and you could feel the tension in the air by guests and the clients towards the officiant.  So again, props to you for dedicating a single day to each client.  What advice do you have for couples who are just starting their wedding planning and may be looking for an officiant?
JC: Do not wait until the last minute to book an officiant.  I feel like officiants are sometimes an overlooked vendor, but one of the most important ones.  Without an officiant, you're just throwing a party!  I've had to turn several brides down recently as I was already booked and have already had three brides ask about the same date in June of 2017!  Also, ask questions and find someone who you connect with!
KE: We couldn't agree with you more on the not waiting until the last minute.  We receive so many inquiries from bride and grooms where their weddings are less than a couple of months away and then they get angry or disappointed when you're unavailable. We agree that officiants are probably one of the top 3 vendors to have at your wedding, so reserving them early is very important.  And when you're considered one of the best, dates go even quicker since many people only want the best for their big day!  Is there anyone you would like to thank?
JC: My husband for being so supportive as I'm often running out on weekends or evenings to meet with couples and he takes care of the kids.  Also, all my past and future couples for trusting me with their special day.  And of course, all the great vendors I work with and refer me, like Kalifornia Entertainment!
KE: Thanks Jennifer!  This has been really informative and I hope that it gives bride and grooms a bit more information as to what goes into booking an amazing officiant, such as yourself, and what goes into the planning.  We are looking forward to working with you this wedding season at so many amazing events.  Plus, we will continue to pass over as many clients as we possibly can for you.  Now to figure out what tropical beach to get married on so my fiancé and I can book you way in advance!
To learn more about Jennifer Costello's officiating services, reach out to her below. And if you would like additional information on what Kalifornia Entertainment has to offer, contact us today for a no obligation quote!
Vendor Spotlight – Jennifer Costello
Website: http://jcostello6.wix.com/wedding-officiant
Facebook: https://www.facebook.com/JenniferCostelloOfficiant/