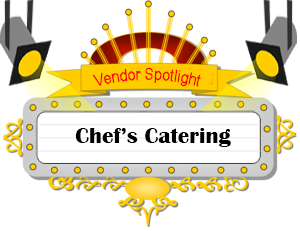 It's been a few weeks since we had a V.S so we thought it would be great to sit down with a well-known local Catering business, who is also on our Preferred Vendor list. This is our Vendor Spotlight: Chef's Catering.
Chef's Catering has been behind some of Rochester's most prominent events and weddings during the nine years it's been operating. The heartbeat behind the company is Michael Zazzaro, owner and event planning guru. Chef's Catering is one of the largest catering companies in Rochester, NY, and for good reason. Not only do they focus on high quality ingredients, they also make your day as special as you! With custom menus, creative dishes, and your needs in mind, they create a meal worth remembering! Michael attributes the high demand of Chef's Catering due to it being customer-focused, which is why they've seen such success over the years! So, check out our Vendor Spotlight: Chef's Catering below.
---
 Vendor Spotlight: Chef's Catering
Kalifornia Entertainment: Hi Michael! Thanks so much for sitting down with us and chatting about Chef's Catering. Hope you're staying well and safe during the current state of the world. Let's begin our interview by you telling everyone how you started in the catering business and how long you've been doing it. How did Chef's Catering become what it is today?
Michael Zazzaro: Hi Josh! Thank you for having me. It's great to sit down and discuss my business with an equally successful and the most in-demand DJ and entertainment company in Rochester. I started Chef's Catering in 2011 from scratch. We have grown to be a full-service wedding caterer along with having 4 food trucks circulating the city for various festivals and events.

K.E.: That's incredible to have been in business this long and to have that many food trucks prowling the streets. I'm pretty sure no other catering business has something that big and extravagant! What sets apart Chef's Catering from other caterers?
M.Z.: We have mobile kitchens that we bring with us on-site to weddings, celebrations, any event that we cater to, to ensure freshness and the best quality of food. We also have trained chefs that attended culinary school so everything is made from scratch in our kitchen. We are able to handle multiple events in just one day.
K.E.: Trained chef's, mobile kitchens and fresh food made from scratch! It's a triple threat! How many private events and weddings do you do each year?
M.Z.:  We do between 250-300 events per year.
K.E.: That's a ton! You definitely stay super busy, that's for sure! When people inquire about your catering services, what can they expect?
M.Z.:  The highest quality service and food! We really stand by that and take pride in what we do from our office communication to our kitchen.
K.E.: We completely understand that mission because Kalifornia Entertainment is the same identical way. We don't believe in giving anything less than 110% in everything we do for our clients. No shortcuts and no laziness. What is your best advice to avoid planning stress for any special event?
M.Z.: Many vendors out there do take shortcuts or skimp on the fine details. Businesses like us excel in the industry because we understand that our clients deserve better and not having someone who won't go the extra mile for them. My advice is to choose the right vendors to trust with your different aspects of your event. Choosing the vendors who are experienced and have knowledge of what they are doing is key.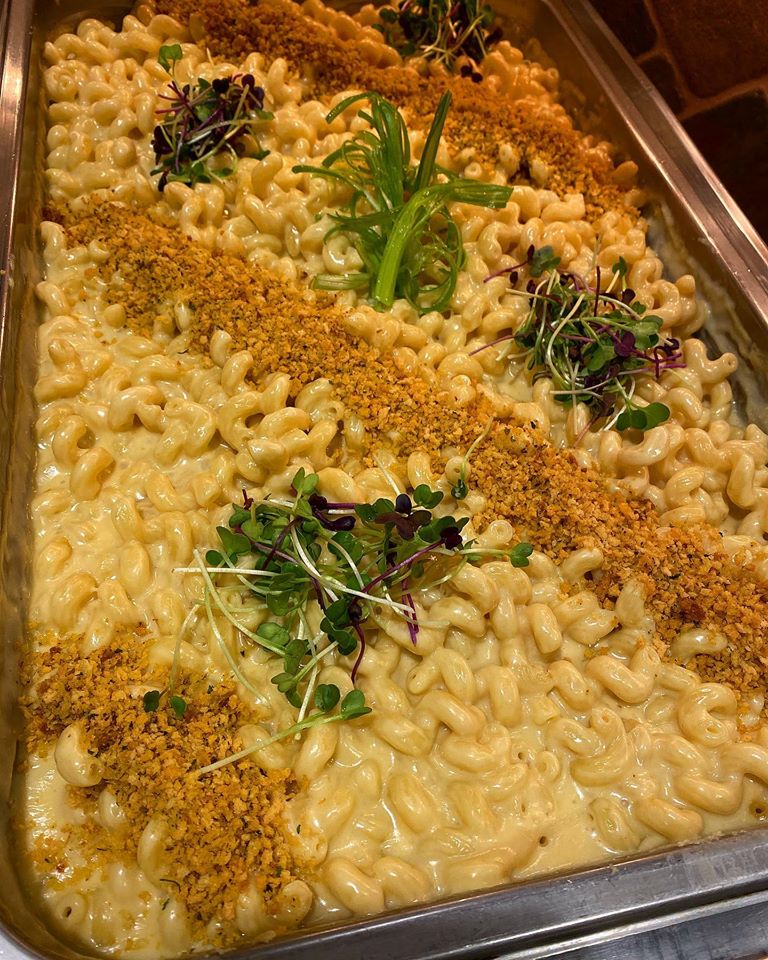 K.E. We couldn't have said it any better! What is usually the most requested dish or type of food at events and weddings?
M.Z.: Our homemade Three Cheese Mac & Cheese. We make our cheese sauce from scratch along with our toasted breadcrumbs that garnish the pasta once it is ready to serve.
K.E.:  You just said the magic words! We LOVE Mac & Cheese, and the fact that it has 3 home made cheeses just sounds like a dream. Has there been any new and exciting additions to your menu recently?
M.Z.: We are able to make and prepare anything that is requested. Our menu is extensive and we are able to go outside of it, too. Our vegan options are new that we have added recently.
K.E.: With how popular Vegan menus have become lately, it's great that you guys offer that for those who really want it. What has been the one dish or menu item clients love over and over?
M.Z.:  Our mac & cheese, again! Also, our black bean & corn fritter sliders that we serve off of our food truck are very popular.
K.E.: My mouth is watering over all of these incredible dishes that you guys make and serve. Have you ever received a really strange request when doing events or weddings?
M.Z.:  *laughing* No request is strange to us! Anything people can think of, or request, we will do our best to please.
K.E.: There's that 5-star, top notch, excellent customer service showing again! What advice would you give bride and grooms who are just starting their search for a catering company?
M.Z.: Do your research. Look at reviews from previous people who have used the company. Always have a tasting with the company and make sure the communication is clear and fast from their office. That is a clear indication of how they operate. If it is tough to get a response to an email, that should tell you something.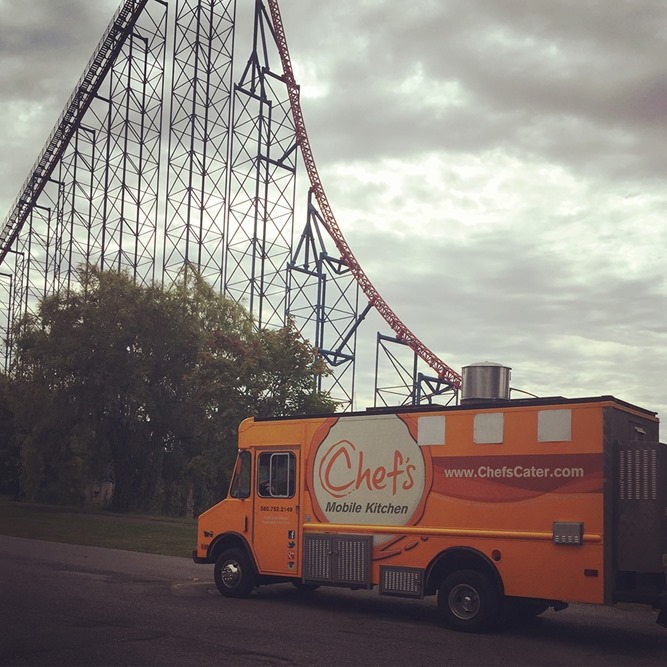 K.E.: YES! Communication is key. Todays modern bride and client doesn't want to wait around for information. They want it now or as quickly as possible. Otherwise they will pass you up and go on to the next person. What has been your favorite wedding or event to cater for, and what made it your favorite?
M.Z.: We have catered for the Nazareth College Parents lunch for the past few years now. It is 4 days in total, 350 people each time. It gives us lots of joy seeing the students and it is always a breeze working with their faculty and staff to feed all of the parents of potential new students entering the college. Everyone is just always so kind and helpful, we love to put smiles on their faces!
K.E.: That's so awesome and such a massive event! Serving 1,400 people over 4 days is a lot of work. I can only imagine the incredible feelings you guys have when it's all over.  Have you ever had to deal with a bridezilla or bad client, and if so, how did you get through it?
M.Z.:  We did once that I can remember. It was the day of the wedding and you get through it by doing everything in your power that you can to make her happy! There is no time for arguing or questioning. What the bride says the day of the wedding, goes!
K.E: Oh, for sure! The client is ALWAYS right and what the client wants, the client gets! No room for egos in the wedding industry or you'll find yourself at the bottom of the vendor list. What's the craziest, funniest or wildest thing you've seen happen at a wedding or event while catering it?
M.Z.: That is a tough one! There's been some interesting things for sure but nothing that I can place at the top of my list.
K.E:  Can you tell all of our readers what inspires you when cooking food, or coming up with new menu items?
M.Z.: The changing times that we live in. Things are always changing and people's perspectives and preferences and dietary restrictions are always changing. You must mold to the times!
K.E.: Let me tell you! That one size fits all or one-dimensional type of thinking with a lot of vendors is the quickest way to failure. You always have to keep evolving, setting the bar high and coming up with unique and different ideas. Otherwise you become stale and irrelevant. What advice can you give to those who want to get into catering business and want to start doing events and weddings?
M.Z.: That's what we and brides love about your company. You set the bar so high for the wedding industry and there's no one else out there that can do what you do for your clients. For those that want to get into the industry or start catering, be prepared to work, A LOT. Do not give up and just keep going even when you don't think you can.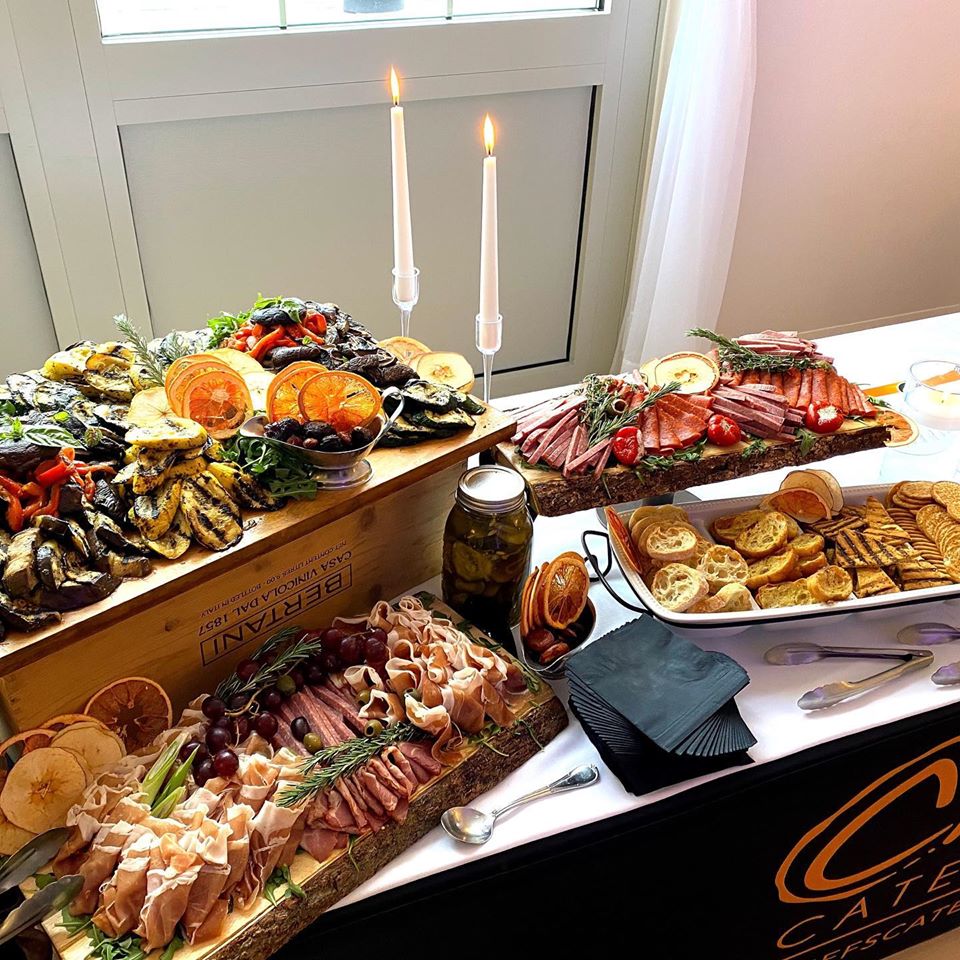 K.E.: Solid advice Mike! I'm sure a lot of people will take that to heart and listen to your guidance. What do you think the future of catering events will be like in say, 5 or 10 years, from now?
M.Z.: I think it will keep growing! People are always looking to have celebrations and get together with families or friends that they need good food for!
K.E.: Right on! And who wouldn't want homemade 3 cheese Mac & Cheese at their event? *laughing* Ok, offbeat question…if there was one celebrity you could cook for, who would it be?
M.Z.: That's easy! Emeril! I have always been a fan and have watched him since I was young.
K.E.: Maybe one day we'll see you on TV, cooking with him. That would be so cool to watch! How do you stay busy during the off-season or down time?
M.Z.: We used to have down time in the winter, but we have grown to service the hospitals for conferences, office lunches, holiday parties, showers, etc. When we do have some time to sit and reflect, we like to always drum up new business and see who we could extend our services to next. During this time with COVID-19, we have changed our entire business strategy. We are producing individually packaged meals as well as boxed lunches each day to service the hospitals and essential workers around our area. We have created a donation link on our website where the community can go on and donate meals to our healthcare workers and we would deliver them.
K.E.: You have no idea how much that is appreciated by our front-line workers who are putting themselves at risk. There are no words to describe the meaningful impact you are having on all of those people. Is there anyone you like to thank?
M.Z.:  My parents, family and my chefs – Matt & Matt! My little sister Jill handles all of the office transactions and a ton more with the company. Thank you to her for all she does as well. We can always count on each other and that is huge. You need to have trust in a business like this, that is for sure.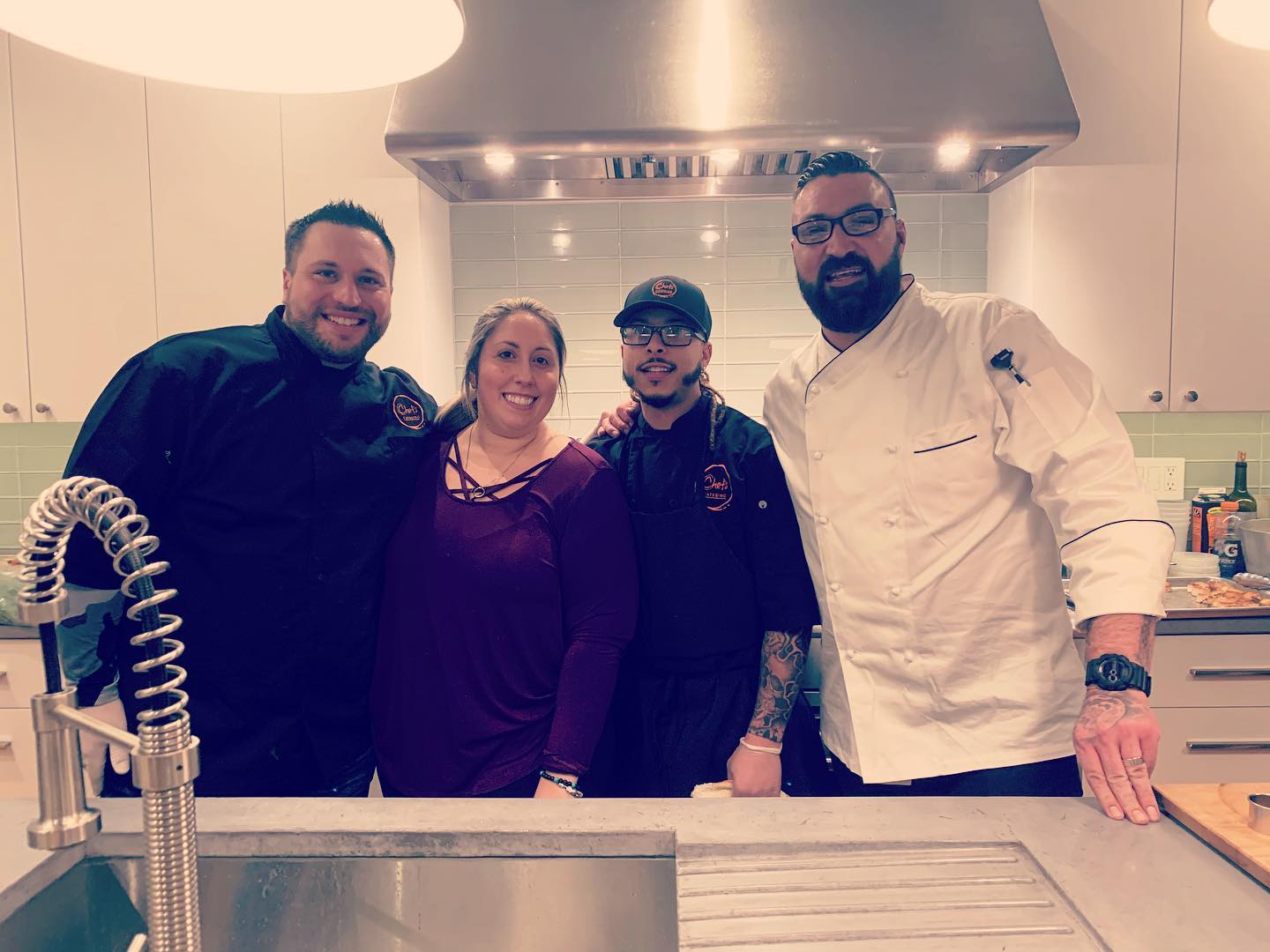 K.E.: Thank you so much Mike for telling your story and everything you do. Your hard work is a trophy showcase of what a successful catering business should be like. Looking forward to rockin so many weddings and events with you this year and beyond, once all of this pandemic stuff is put to rest!
---
If you would like to learn more about Chef's Catering or would like to receive more information on their services, check out their links below:
Website: www.chefscater.com
Facebook: Chef's Catering
Instagram: @chefs_catering
Other: People can order their meals on the Chef's Catering website by going to this link: www.chefscater.com/ecomm
To view more of our Vendor Spotlights, check out the category here.
---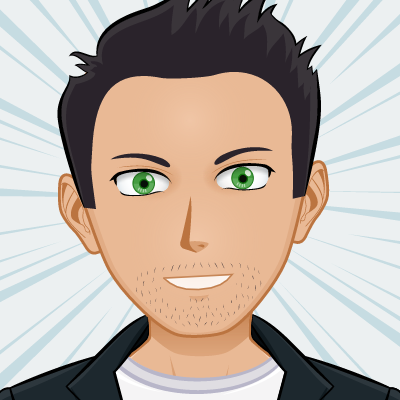 DJ Kalifornia (Joshua V.) is an 13 time finalist and 5 time winner in the annual Best of Rochester City News Poll as Best Rochester DJ, voted upon by thousands of people over the years as a finalist and winner. He was also a finalist in the WHEC's Channel 10 News weekly "Rochester Rocs" award as Best Live DJ, nominated in the annual prestigious "Roc Awards" as Best Rochester DJ, as well as a winner and finalist in the Democrat & Chronicle Choice Awards as Best DJ In Rochester.
Kalifornia Entertainment, as a company, is an annual multi-award winning business with achievements from The Knot, Weddingwire and other online wedding directories.  The business has achieved over 500+ five star reviews in total and has been placed on 50+ PROVEN preferred vendor lists. DJ Kalifornia was the leading long time successful resident DJ at Rochester's beautiful ONE and Two89 nightclubs in the East End District, as well as resident at many other nightclubs in the area. He was a long time monthly resident on Party 103…a worldwide radio station with millions of listeners and world renowned top global DJ's. You can see him play at other nightclubs all over as a special guest or headliner from time to time when not doing private events.
He currently writes for DJ Times magazine (now DJ Life Magazine), which is the biggest DJ specific world wide publication with millions of readers spanning across the planet on every continent and showcases the worlds best DJ's. His articles discuss how to get an upper edge over the competition and how to apply strong marketing techniques, strategies, social media, Public Relations and diversity in a way that places you as an industry leader and gain more business. The magazine featured him in a full article, in April of 2020. 
He's been a resident DJ at just about every major nightclub in the Rochester, NY area over the years (and has played all over elsewhere as a guest and resident DJ), was the founder and creator behind the Rochester Zombie Prom, Showcase of The Arts, One Night In Heaven Fashion Show, and many other popular large scale events around WNY. He has thrown hundreds of established and successful themed events, themed weddings (considered the best and #1 elite in Rochester for putting together unique themed wedding receptions) and is very well known through out many different social and business groups and circles in WNY. His experience, vision, knowledge and the ability to make your wedding or event stand out from the rest, puts him at the top and head of the industry that no one else can duplicate, when it comes to being your DJ or entertainment vendor of choice.