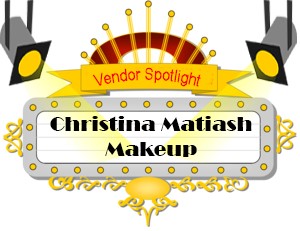 It's been awhile since we've had a Vendor Spotlight here on the K.E. blog.  We decided to start them back up and show off some of the amazing individuals and businesses that we have on our Preferred Vendor List, since there is an incredible amount of talented wedding vendors in the Rochester / WNY area.  We figured it's only right to kick these off with a certain type of vendor that is probably one of the most important ones when it comes to brides and their wedding parties…. the makeup artist (MUA).  These vendors are tasked with making brides and their girls, look their absolute best on the most important day of their lives.  We sat down for a few minutes with the fabulous Christina Matiash, who runs Christina Matiash Makeup and has a reputation in the local wedding industry as being one of the best and most often referred MUA when brides are looking to be transformed into super models for their weddings.  See the interview after the jump.
---
Vendor Spotlight – Christina Matiash Makeup
Kalifornia Entertainment: Hi Christina!  Thank you for taking the time to sit down and speak with us today.  Let's get the interview kicked off with the most important question first…tell me more about Christina Matiash Makeup.  How did you get into the beauty industry?
Christina Matiash: No problem!  It's great to sit down and chat for a bit with someone who has your reputation of being at the top of the industry.  As far as how I got into this business, funny enough, I think it all stemmed from me wanting to know how to do my OWN makeup years ago.  I would read magazines for makeup tips and watch other makeup artists on YouTube to learn from them.  Friends would ask me to do their makeup for special events.  Eventually word of mouth led me to doing a few weddings a year.  I thought, hey maybe there's more to this?  Maybe this could be something.
I started thinking about how cool it would be to have my own business.  I went to Continental School of Beauty and became a licensed esthetician.  Shortly after graduating I decided that it was time to put myself out there and create a career for myself that I truly loved.  I'm SO grateful it has worked out this well!
K.E.: We have chatted with so many other vendors who sort of "fell into" the industry by realizing they had a talent and could make something great out of it by doing weddings so it's awesome that you came into the industry in a similar fashion.  How many weddings do you usually do every year?
Christina: I usually do a little over 40 weddings a year!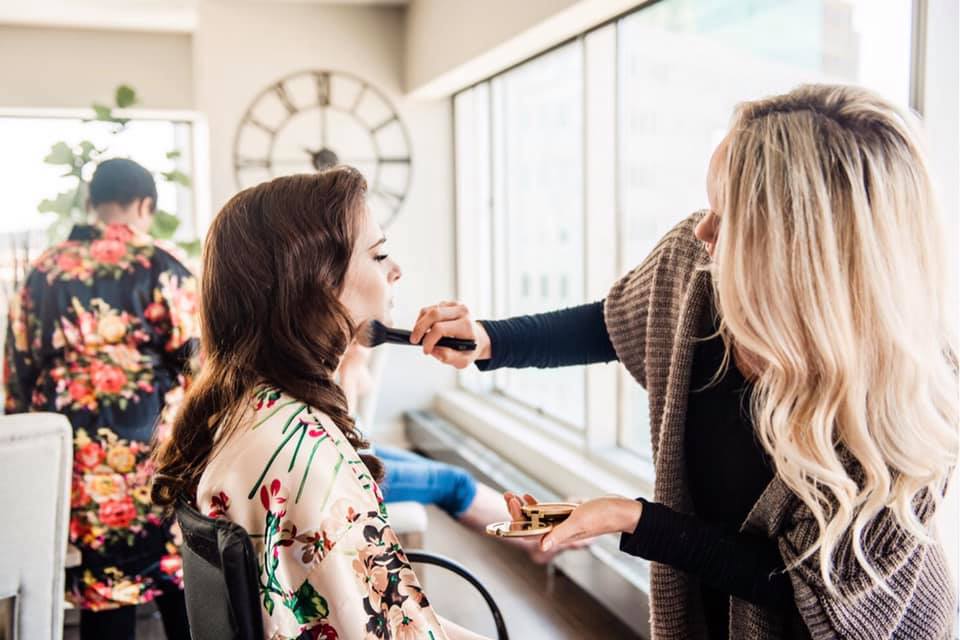 K.E.: That's amazing and such a well-rounded number too. Not too much to where you can't live your life and enough to make some decent money.  What are some things that a bride should look for when choosing an MUA?
Christina: One of the most important things is dependability.  Brides, this is your wedding day.  The LAST thing you need to worry about is your makeup artist being late or not showing up at all.  Your makeup artist should have a contract in place that protects the both of you.  Make sure they have many reviews attesting to how professional they are, that they are on time and communicative with their brides.
Another thing would be an artist that reflects the style they are looking for.  I feel like we all have our own unique artistic ways about us. Find someone whose work you truly love!
K.E.: That is some solid advice right there, and it follows through with so many other vendors too.  Dependability is so important in what we all do and you really want your client to have enough trust in us as professional vendors that we not only will show up but will also do a world class job.  In your opinion, what is the most important quality in an MUA?
Christina: Our clients book us because we make them believe we can offer them something great and they trust us. So yes, dependability and trust should never be broken. The most important quality, in my opinion, would be someone who truly LISTENS to their client.  My preview sessions with brides take quite a long time because I spend SO much time talking with them and asking them questions before I even put a brush to their face.  A lot of clients say they want "something natural", and early on I learned that "something natural" is subjective to each person.  I dig deeper to learn more about the look that they desire…and I listen!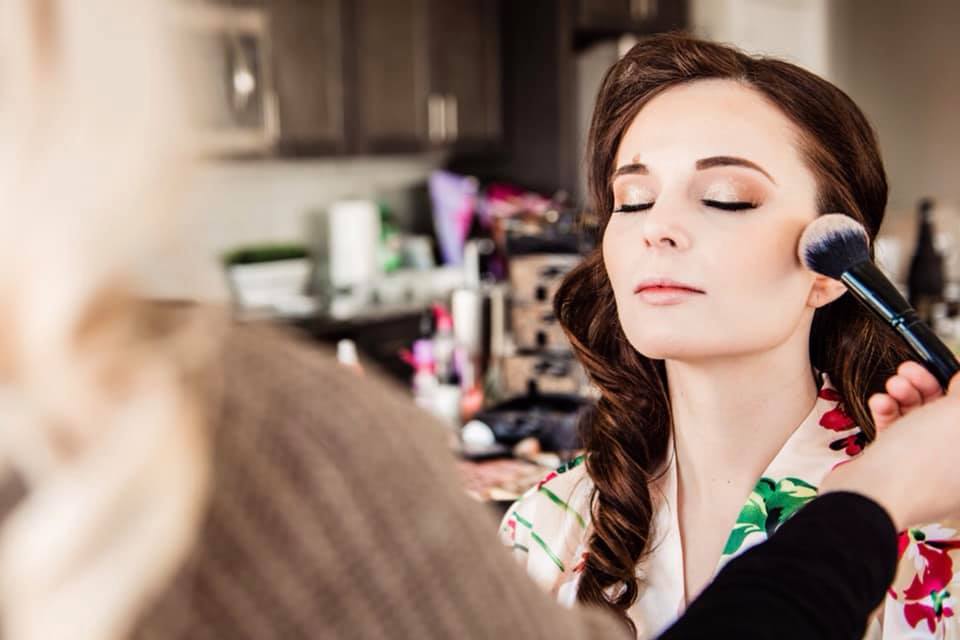 K.E. Ah yes…. listening! So very important because as you said, everyone's vision is different or subjective and you need to hear what they tell you carefully so you can hit that bullseye each and every time for them. How do you stay ahead and learn about the latest beauty trends?
Christina: Social media is quite a powerful tool in this industry, isn't it?  On both Instagram and Facebook, I follow many reputable artists in the industry who help keep me up to date on the latest and greatest trends.  I've joined groups on Facebook where thousands of professional makeup artists share beauty and business tips.  This really helps me stay informed!
K.E. Social media can absolutely be a powerful tool without a doubt, for many people in this industry and help guide you to a completely different (higher) level. Do you have any advice or tips for aspiring MUA's?
Christina: Practice, practice, practice! *laughing* Use your own face yes, but honestly the best way to grow is to practice on other people.  We all have different facial features, skin tone and coloring.  A true makeup artist will learn how to work with any face that sits in their chair.  When I first started out, I would ask my friends and family to come over so that I could practice on them.  It really helped!
K.E. And I'm sure they loved having their makeup done too. *laughing* It's crazy to think how many vendors though don't spend enough time practicing and honing their crafts.  I, personally, am OCD about things so I practice often with all types of music and entertainment scenarios to assure things will always go great for clients. What is the most challenging part of your job?
Christina: See?  That's why Kalifornia Entertainment is #1.  You take that time to carefully plan and practice for anything that you are faced with. What's the most challenging part of my job?  This is kind of a funny answer, but lugging around all of my equipment to different venues!  As a makeup artist I need to have EVERY color and type of product that suits each client's desires and needs.  My kit is super heavy!  I also bring my chair, light and airbrush machine along with me.  Sometimes I'll have to park far away from the venue or walk up flights of stairs to get to where I need to be.  It's a LOT to carry and I'm sure I look really funny doing it!
K.E.: Oh man…. this is something I can relate to over and over. Lugging a ton of equipment (sound, lighting, photo/video booths, etc) into venues is a major work out sometimes. Can you tell us about a memorable moment you had while doing makeup, which you'll never forget?
Christina: There are so many incredible moments I've had while doing makeup but right now there is one that really sticks out in my mind.  It was actually years ago; I was working at Sephora at the time.  An older woman came in looking for something to help brighten the dark circles under her eyes.  I found an under-eye concealer that I thought would be the perfect fit for her.  I applied it for her, along with a little extra something to help her feel special.  She looked in the mirror afterwards and started crying.  She didn't think it was possible to brighten up her face in such a way.  She told me she finally felt beautiful enough to take a profile pic for Facebook!  Seeing that surge of confidence, she felt in that moment has really stuck with me all these years.  Makeup can be pretty powerful!
K.E.: I'm not crying…YOU'RE crying!  That's amazing and the way people in your profession are able to transform others not just physically but emotionally is just incredible. MUA's are able to take someone's confidence in how they perceive themselves and make it a million times more.  If there was one makeup item that you cannot live without, what would it be?
Christina: Oh, it has to be my Beauty Blender.  I feel naked without it!  This beautiful sponge applies makeup and blends it so flawlessly.  I own about 20 of them!
K.E.: I actually learned about beauty blenders not too long ago because my wife wanted some and I bought her a bunch. *laughing* If you could do any celebrities makeup, who would it be?
Christina: Oh, such a good question!  I think Lady Gaga would be great because she loves taking bold risks with her looks.  I could play around and use ALL the glitter and colors and have no doubt she could pull anything off.   I love doing glamorous, dramatic looks and I think her face would be so much fun to paint.
K.E.: You shoot for the stars and Lady Gaga would definitely be one of the highest stars you could reach!  What other types of events, besides weddings, do you do?
Christina: All special events!  I've done everything from weddings to proms to gala makeup to birthday makeup to date night makeup.  Even private 1:1 lessons for ladies who want to learn tips and tricks when doing their own makeup!
K.E.: You know you've hit that elite level when people come to you for tutorials and instruction.  What type of products, name brand wise, do you usually use?
Christina: Ohhh, I have a love affair with a variety of brands.  Some of my favorites that I use are Temptu airbrush makeup, MAC cosmetics, Tarte and Graftobian HD makeup.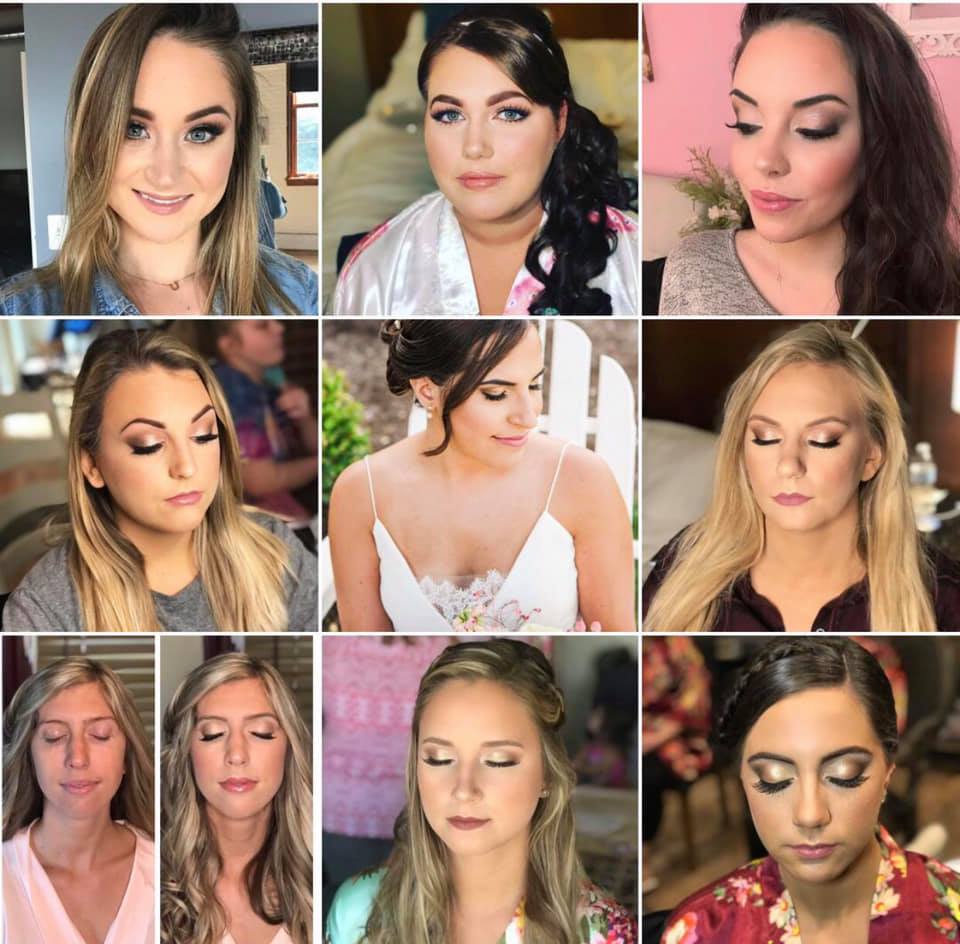 K.E.: A great wedding vendor is one that has top of the line products and equipment. You can't give a client the best service possible if you are using cheap stuff that doesn't have a reputation for lasting long.  It's awesome that you use all the best brands available to you and I'm sure your clients are very happy you are using top quality stuff too.  How would you describe your signature look or what sets you apart from others?
Christina: While I like a nice, soft natural look, I LOVE me some serious glam.  I'm a big fan of incorporating some sparkle whenever I can.  If you're looking for a glamorous, shimmering smokey eye, I'm your girl!
K.E.: Glam and sparkle are never out of style! On your wedding day, you want to shine bright so why not go over the top?  What are your 3 beauty Do's & Dont's?
Christina: For the DON'T –
1) Go to sleep with your makeup on.  It will clog your pores and have you waking up with pimples.  Let that skin breathe sister!
2) Wear a matte lip or a lip stain if you have seriously dry, chapped or cracked lips.  If you must wear a stain, layer it with a gloss on top.  You want your lips to look hydrated, soft and plump.  Stains and matte lip products are so drying as it is…stay away if your lips aren't in the proper condition for them!
3) Apply too much pressure when filling in your brows.  Light, small hair-like strokes will create the most natural look.  Hold the pencil or brush halfway down to make sure you are not getting heavy handed when applying the product.  Then, once you are done, buff out your brows with a spoolie.  Wah lah!  Gorgeous, natural looking brows.
For the DO's –
1) Moisturize!  Your skin needs hydration to look and feel healthy!  Moisturize morning, night and every time before applying makeup!
2) Exfoliate your skin 2-3 times a week for normal skin (1x a week for sensitive).  It cleans and unclogs your pores while also sloughing off dead skin cells.  Your skin will feel super smooth afterwards!
3) BLEND, BLEND, BLEND your makeup.  There's no such thing as too much blending in my book.  The last thing we want are harsh lines on our face.  Blending really softens the look beautifully.
K.E. All excellent tips that I'm sure future clients and women everywhere will find very informative!  Share 3 random facts about yourself?
Christina: This is will be fun.  Let me think for a moment. *pauses* Ok, here goes…
1) My husband and I met on an elevator in Buffalo. I'm from Rochester and he's from Niagara Falls. Neither of us were supposed to be there that night but a strange turn of events led us both to that spot.
2) I'm also a singer. In 2012, I started a band with a friend called "The Midnight City". Since having a baby, my love for music has been put on hold, but I really hope to get back to it soon.
3) My first makeup clients were my barbies when I was little. Permanent marker doesn't work as well for eyeliner and lipstick as you might think!
K.E. Oooo a singer!  That's great!  When you do get back into it, you'll have to let me know so I can bring a large group of people to cheer you on!  We'll be the loudest ones in the venue! *laughing* Is there anyone you would like to thank for your rise in the wedding and/or MUA industry that has helped you get to where you are today?
Christina: Oh man, where to begin.  I'd like to thank my best friend, Rebecca for being the one person who always said to me, "You need to just go all in and be a professional makeup artist!"  She was saying it to me for years before I ever even realized this was a real possibility.  I'm glad I finally woke up and realized she was right all along!
I want to thank my husband, Nick who is the most supportive human on planet Earth.  He always has faith in me that I can do anything I put my mind to and is so encouraging.
Lastly, I want to thank all of my fellow wedding vendors (this includes you, Kalifornia Entertainment) who have become such great, supportive friends of mine.  It means SO much when other people recognize your hard work, believe in you and then spread the good word about you to their brides.  My business has grown so much thanks to people like you!
K.E. Awww….we love seeing good people with amazing skills, good hearts and bright spirits succeed in this industry. Kalifornia Entertainment has a solid and strong mantra that we will ALWAYS go out of our way to assure that others are successful in every way. Thank you for taking the time to sit with us and tell us your story and a bit about your business. Cheers to a wild ride that is the 2019 wedding season, and cheers to many more successful years in what you do so flawlessly!
Christina is an amazing person to work with and any future brides or clients who are interested in learning more about her services or would like to inquire on what she can do for you, feel free to take a few minutes and visit her website or social media:
Website: www.christinamatiashmakeup.com
Facebook: http://www.facebook.com/christinamatiashmakeup
Instagram: @matiashmakeup
---
Want to read up on other Vendor Spotlights? Check out the archive here!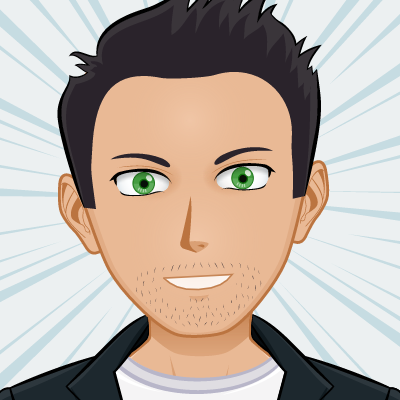 DJ Kalifornia (Joshua V.) is an 13 time finalist and 5 time winner in the annual Best of Rochester City News Poll as Best Rochester DJ, voted upon by thousands of people over the years as a finalist and winner. He was also a finalist in the WHEC's Channel 10 News weekly "Rochester Rocs" award as Best Live DJ, nominated in the annual prestigious "Roc Awards" as Best Rochester DJ, as well as a winner and finalist in the Democrat & Chronicle Choice Awards as Best DJ In Rochester.
Kalifornia Entertainment, as a company, is an annual multi-award winning business with achievements from The Knot, Weddingwire and other online wedding directories.  The business has achieved over 500+ five star reviews in total and has been placed on 50+ PROVEN preferred vendor lists. DJ Kalifornia was the leading long time successful resident DJ at Rochester's beautiful ONE and Two89 nightclubs in the East End District, as well as resident at many other nightclubs in the area. He was a long time monthly resident on Party 103…a worldwide radio station with millions of listeners and world renowned top global DJ's. You can see him play at other nightclubs all over as a special guest or headliner from time to time when not doing private events.
He currently writes for DJ Times magazine (now DJ Life Magazine), which is the biggest DJ specific world wide publication with millions of readers spanning across the planet on every continent and showcases the worlds best DJ's. His articles discuss how to get an upper edge over the competition and how to apply strong marketing techniques, strategies, social media, Public Relations and diversity in a way that places you as an industry leader and gain more business. The magazine featured him in a full article, in April of 2020. 
He's been a resident DJ at just about every major nightclub in the Rochester, NY area over the years (and has played all over elsewhere as a guest and resident DJ), was the founder and creator behind the Rochester Zombie Prom, Showcase of The Arts, One Night In Heaven Fashion Show, and many other popular large scale events around WNY. He has thrown hundreds of established and successful themed events, themed weddings (considered the best and #1 elite in Rochester for putting together unique themed wedding receptions) and is very well known through out many different social and business groups and circles in WNY. His experience, vision, knowledge and the ability to make your wedding or event stand out from the rest, puts him at the top and head of the industry that no one else can duplicate, when it comes to being your DJ or entertainment vendor of choice.