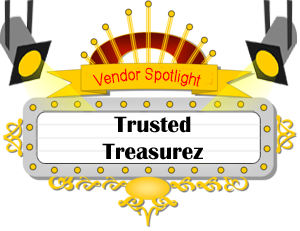 Today's brides and grooms are always looking for something to really set their weddings apart from the rest.  In doing so, they'll do some serious leg-work to research and investigate different wedding vendors to find the most unique items that will give their receptions that posh gala appearance or presence.  When guests walk into your venue for the first time, you want them to have a look of astonishment and bewilderment.  Enter Trusted Treasurez! We sat down for a few minutes with the owner, Angela Jones, to see what her company does and how she's able to transform a venue into something that will leave family and friends in awe. So check out our latest Vendor Spotlight – Trusted Treasurez.
---
Vendor Spotlight – Trusted Treasurez
Kalifornia Entertainment: Hi Angela!  Thanks so much for taking some time to sit with us and discuss your company.  Tell me a bit about Trusted Treasurez and everything you do?
Angela Jones: Hi Josh!  It's my pleasure to sit down with the number one wedding DJ in Rochester.  To tell you about what I do, Trusted Treasurez provides custom bridal bouquets throughout the United States.  All orders are created using high quality silk flowers and designed to each brides colors, style and theme!  I do offer discounted package prices which includes the brides bouquet, all bridesmaid bouquets, corsages and boutonnières PLUS the bride always receives a free toss bouquet!  I have a large amount of rental items including king/queen throne chairs, centerpiece items, backdrops and other decor.  I specialize in sweetheart table designs.
KE: That's a lot of things you offer.  How did you get into this business?
AJ: Since a young teenager I always had a passion for weddings and design.  I wasn't sure what I wanted to do in the field or how to go about starting it, so it stayed at the "just a dream" stage for many years.  I was a quality control inspector at a manufacturing company for 18 years and about 3 years ago, I told my husband I am going to quit my job. *laughing*  I told him my plan and he was very supportive.  I put in my notice and started living my dream!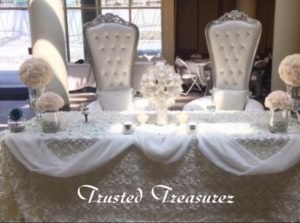 KE: That's so awesome! Having people to support your dreams is how you become successful in anything you do.  And the fact that you have that QA experience, it means you definitely take the time to give clients the extra care and precision to make their day be perfect!  Do you make your king and queen chairs yourself?
AJ: I do not make my throne chairs myself.  I have them custom made off-site and they are then shipped to me.  It takes about 5 months to receive them which can sometimes be a total nightmare, but worth it in the long run!
KE: How long are clients able to rent your items for?
AJ: Typically, they are rented out only for the day of the event.  My items are in very high demand, much like you are as a DJ.  So there's always clients who need what I have, day after day.
KE: High demand is a good thing.  It truly means you are at the top of the industry and people will do everything they can to have the best at their weddings. What do you require from clients when someone wants to rent your items?
AJ: A small deposit is required to save their date for all rentals.  For the king/queen chairs, a contract must be signed in agreement that the chairs will be in the same condition as delivered.  They are held responsible for any damage.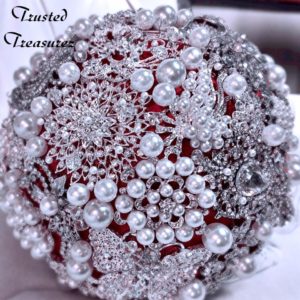 KE: Do you provide delivery, set up and pick up?
AJ: I do provide delivery/ pickup, set up/takedown for all services.
KE: What is you policy on damaged or missing items?
AJ: The renter is held responsible for any missing or damaged items.  I am aware that things happen sometimes and accidents do occur so if it was a broken glass or something small, I wouldn't make a big deal over it since it can be replaced.  My policy and contract for the chair rental is a little more in depth and the client would be responsible for fixing/replacing if damaged and would be liable for all future bookings.
KE: That's a good policy to have.  When the alcohol is flowing, things tend to get crazy sometimes and accidents do happen.  How far in advance must someone book your services?
AJ: It is best to book within 8 months to 1 year in advance.  In some cases, I do accept rush orders depending on my schedule at that time but a rush order fee is applied.
KE: 1 year is a good time limit to have. Right now, I'm booking almost 2 years in advance, which is crazy.  What's your favorite part about planning or doing weddings?
AJ: Well, when you're the best of the best, people want to make sure they have you for their weddings.  I can completely understand you being booked that far in advance going by how many people reach out to you just on Facebook alone. *laughing*  My absolute favorite part about planning is the results!  The time spent getting to know every bride, their likes, their dislikes and making sure their day is perfect can be overwhelming at times.  But to see their excitement and to know they are truly satisfied with your services is a feeling like no other!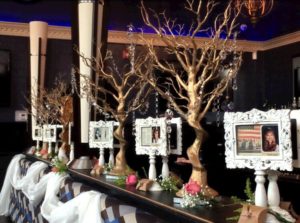 KE: OMG! I couldn't have said it better! We, as professionals, have to really take the time to get to know our clients and what they envision for their big day.  So getting to know them on a personal level, and hitting a home run every single time is why we excel at what we do. Have you ever had to deal with bridezilla?  If so, how did you work everything out?
AJ: To be completely honest I have never dealt with a bridezilla…"knock on wood"!  During our first meeting or first conversation, I let them know I am here to help them with anything, if they are overwhelmed, need help or need to vent.  Especially during that last month when it's getting hectic, "Just Call"!
KE: You have to really let your clients know you're there for them through constant communication.  Wedding planning can get so stressful and crazy.  When you reach out to clients and let them know that you are there for them in any way possible, it can help ease the stress and craziness that goes along with it all.  And it's another one of those ways to make you stand out even more than other vendors. What's been most surprising about the experience of growing your company to what it is today?
AJ: The last 3 years has been surprising.  Every day surprises me, to be honest though!  From a dream to reality, it has been an exciting ride and I thank God everyday for guiding me in this direction, for giving me faith and the motivation to keep pushing!  I remember almost giving up a few times, crying a few times and I even threw all my materials in the garbage at one point!  But the passion I had didn't allow me to give up and I am amazed by what it has become today.
KE: What advice do you have for entrepreneurs who'd like to follow in your footsteps?
AJ: My advice, follow your dreams and never give up!  Take chances, take that extra step, talk to people and ask for help when you need it.
KE: Solid advice!  What has been your favorite wedding or event to date?
AJ: My favorite wedding to date is my very first full wedding I had done!  I was so nervous, so scared…. of course I did not allow the bride to see my fear! *laughing*  The day before the event, I was a wreck and doubting myself but when I walked in there the day of, I was confident and did my thing!  The turn out was beyond beautiful and the day was perfect.  The best part about it is the friendship I gained with the bride "Odelia"… now known as "Linens by Odelia"!  After her big day, she decided to also get into the business and now we are great friends and business partners.
KE: Any final thank yous?
AJ: I want to say thank you to everyone who stood beside me and supported me throughout the years especially my husband Kevin Jones (what would I do without your love)?  I want to say thank you to all those who entrusted me to be part of their special day, whether it was a full wedding, floral arrangements or rentals…I SAY THANK YOU! And, of course, thank you Josh (Kalifornia Entertainment) for the recognition and your extreme support to help others in this industry grow!  You do SO MUCH for other wedding vendors and we don't see other DJ's go as far as you do for your clients.  You raise the bar very high for others and many vendors wouldn't be as successful if it wasn't for your help, promotion and guided effort to help them thrive!
KE: It is definitely my pleasure to help you and everyone else in this industry.  I want to see you all do great things and I hope the 2017 wedding season is very very good to you. I look forward to working with you many times next year.
We hope you enjoyed reading our latest Rochester Spotlight.  If you are searching for king/queen throne chairs, centerpiece items, backdrops, unique decor or silk arraingments, reach out to Angela at Trusted Treasurez right away! And be sure to let her know Kalifornia Entertainment referred you! Check out their Facebook page below:
Facebook: https://m.facebook.com/trustedtreasurez/