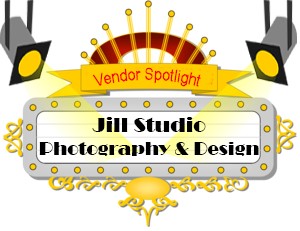 Welcome back to another edition of the Kalifornia Entertainment Vendor Spotlight series! For this edition, I'm sitting down and chatting with an incredible photographer whom I've had the absolute distinct pleasure of working with at a few receptions. She goes by Jillian Meisenzahl and her company is Jill Studio Photography & Design. The receptions that we've worked together at were not only high class, charming, graceful, elegant and dare I say it…quite impeccable, but they were also full of high energy with spirited guests that you would only see and get at a Kalifornia Entertainment party. When you have an event business such as K.E. and an exceedingly talented photographer like Jill at your reception, the outcome of two seasoned and skillful vendors are something out of this world! Check out the our Vendor Spotlight: Jillian Meisenzahl after the jump.
---
Vendor Spotlight – Jillian Meisenzahl
Jill Studio Photography & Design
Kalifornia Entertainment: Hi Jill! Thank you so much for sitting down with us and chatting about your company. Hope you're staying well and safe through all the pandemic craziness. Let's begin by you telling everyone a little about your background and how you first got into photography?
Jillian Meisenzahl: Hi Josh! Thank you for having me in your Vendor Spotlight. It's awesome to be doing this with a company of your caliber and excellence. I first started photography in my sophomore year at SUNY Oswego. I was required to take a photo class for my graphic design major and ended up loving it more than I expected! A semester later, my college added on a photography minor and I was the first female to declare it at SUNY Oswego.
K.E.: W'oh! That's so cool that you were first to declare it at your school. That's an impressive accomplishment within itself. What made you decide to get into shooting weddings?
J.M.: After quitting my full-time graphic design job in 2015, I knew I wanted to start photographing weddings. I had only done a few at the time, but I LOVED everything about them. I love meeting new people and documenting all of their special days. I knew this is what I wanted to do for my next chapter in life. I've never been so passionate about something and it's a dream to do this as a living.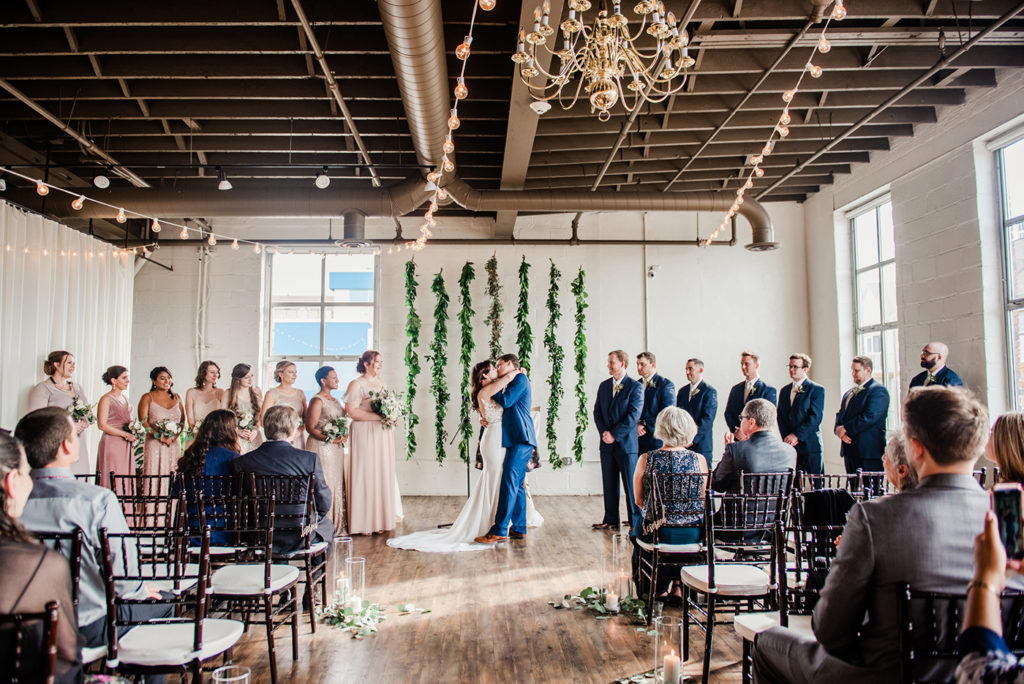 K.E.: I'm right there with ya! Being able to share in one of the most important days of someones life is a feeling like no other. And having that passion is what separates the professional high-end vendors, like us, from the rest. Passion keeps us dialed in to ensure everything stays impeccable! Do you have a preferred style of shooting or photography that you love the most?
J.M.: You get it and understand that. That's why it's great to work side by side with you at receptions. My shooting style is a mix of traditional and candid. I strive for timeless photos that will never go out of "trend". I honestly don't pay attention to what other photographers are doing and I just focus on myself and what speaks to me as an artist. That's why I love true-to-life editing colors and it's what a ton of my clients appreciate about me. I truly value authentic moments and I would never want my images to seem altered or untrue to what was really happening in the moment.
K.E.: A true artist at work! And trends are meant to be broken. That's how you set the bar high and offer really unique services. How have you been staying busy through the pandemic?
J.M.: Since March things have been pretty difficult, but I'm also loving all my down time. I had many couples need to postpone to later in 2020 or next year and it just breaks my heart. I spend a ton of time helping my couples and to stay positive… I've been planning a couple of trips for this fall and next year. Traveling is so important to me, so that kept my mind excited and hopeful. I also spent a ton of time playing board games/UNO with my boyfriend and took many naps with my sweet kitty, Mochi.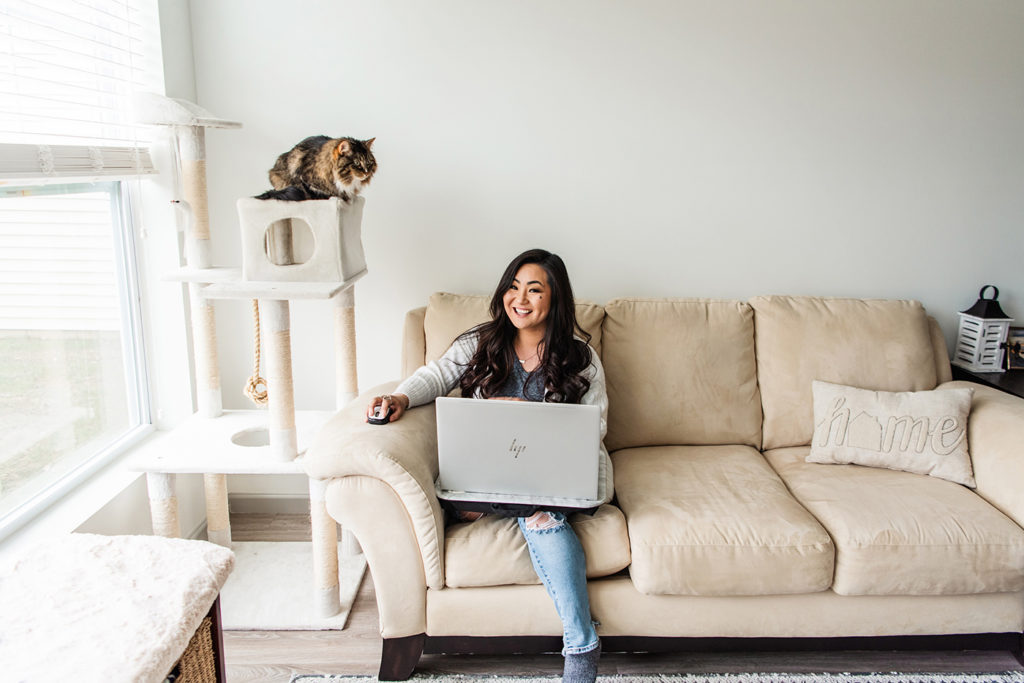 K.E.: Yeah, it's been a strange time for sure. Being there for our clients is one of the most important things we can do as vendors. Letting them know we are there for them and willing to do what we can to help ease their stress and anxiety goes a long way. And high five for being a kitty owner! My little wild child is named Marco. During normal times, how many weddings and events do you usually do each year?
J.M.: The last two years I have set a 25-30 wedding max per year, but I have a feeling next year will look a little bit different. I do have a strict rule to leave one full weekend available each month so I have a little time to myself and it gives me time to refresh. Right now, I have 30 weddings booked for 2021 and four weddings booked for 2022. I plan on only taking a couple more weddings for next year just in case more of my 2020 couples need to postpone.
K.E.: Taking time for yourself every few weeks to have a breather and relax or recharge is very important because it allows us to go right back into our work with a fresh set of eyes and energy. This is good for our clients since they then get the best version of ourselves every time. As someone who is extremely high in-demand and books 2 years out, it brings joy to my soul to hear that you are also booking far out. I love to see other world class vendors like you, being a hot commodity in the wedding industry! When clients have the opportunity for us to work their receptions, they are getting something noteworthy and exceptional that they don't get with any others. What has been your favorite wedding to shoot to date, and what made it your favorite?
J.M.: I'm not sure I can pick just one…. This year I will be photographing my 100th wedding so this feels like an impossible question to answer. I love photographing weddings for past classmates or old friends because the day feels a little extra special, but a majority of my clients become my very close friends as well. If I had to pick just one wedding, Derek and Michelle's wedding at Arbor Loft with you as their DJ was definitely one of my all-time favorite days and some of my favorite wedding photos I have ever taken.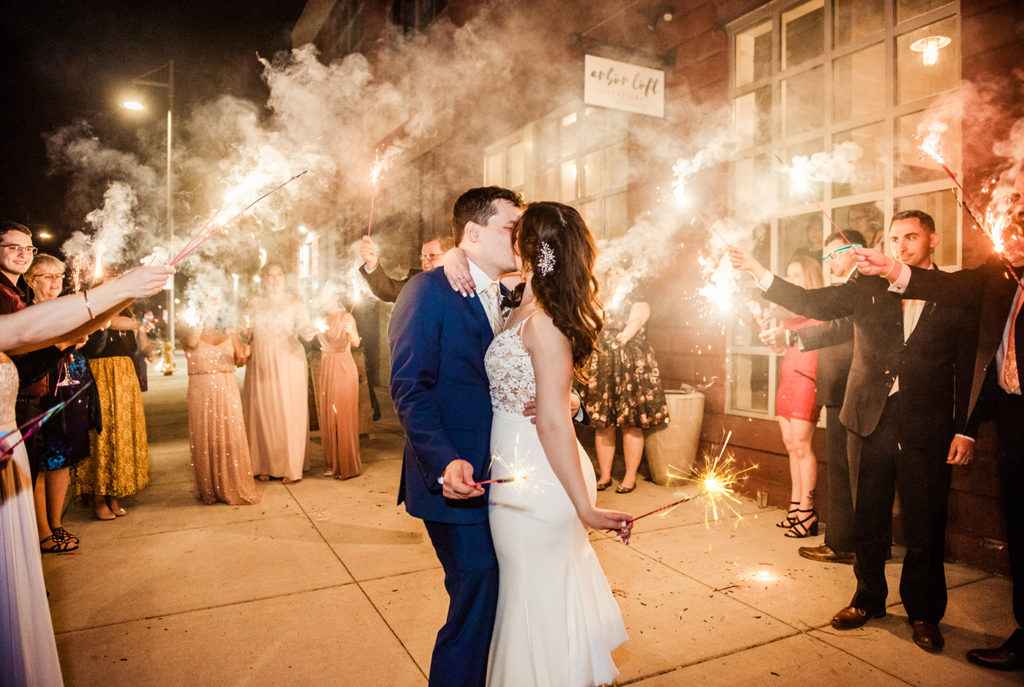 K.E.: We'll have to get you a trophy for hitting the "100th wedding" milestone! *laughing*  And oh man..Derek and Michelle's wedding was one for the books. Their family and guests really brought the energy! What inspires you to capture or take the perfect shot?
J.M.: Lighting and my couples inspire me the most. Getting to know my clients is so important to me and a huge part of my philosophy behind what makes me stand out of the crowd. I put so much of my time and heart into what I do and many value that aspect of me. Golden hour fuels my creative heart, but I also thrive on a beautiful overcast-ed day as well. I'll take what ever gets thrown at me and make the best of any situation. I also love rainy days, which scares most photographers.
K.E.: Girrrlll…let me tell you. We absolutely HAVE to get know our clients as much as we can because if we understand them and know what they love, it will help us hit a bullseye every time with them. I like that you're not afraid of some clouds or rain too and make the best of it. Let's discuss gear and get technical for a second. What type of camera equipment do you use or always bring with you?
J.M.: I'm team Nikon and always have been. I currently own a D780, D750s and several lenses. My favorite being the 24-70mm that rarely leaves my camera body.
K.E.: YES! Team Nikon here as well. I always bring mine with 3 or 4 different lenses to capture shots of my gear at events and for promo purposes. I'm still learning but it's awesome to get tips from other Nikon users. Besides weddings, what other types of photography do you stay busy with?
J.M.: I'm also super passionate about boudoir photography and senior portraits. Working with families fills my schedule as well so I do just about everything. I just don't get into product photography because I love working with people and animals.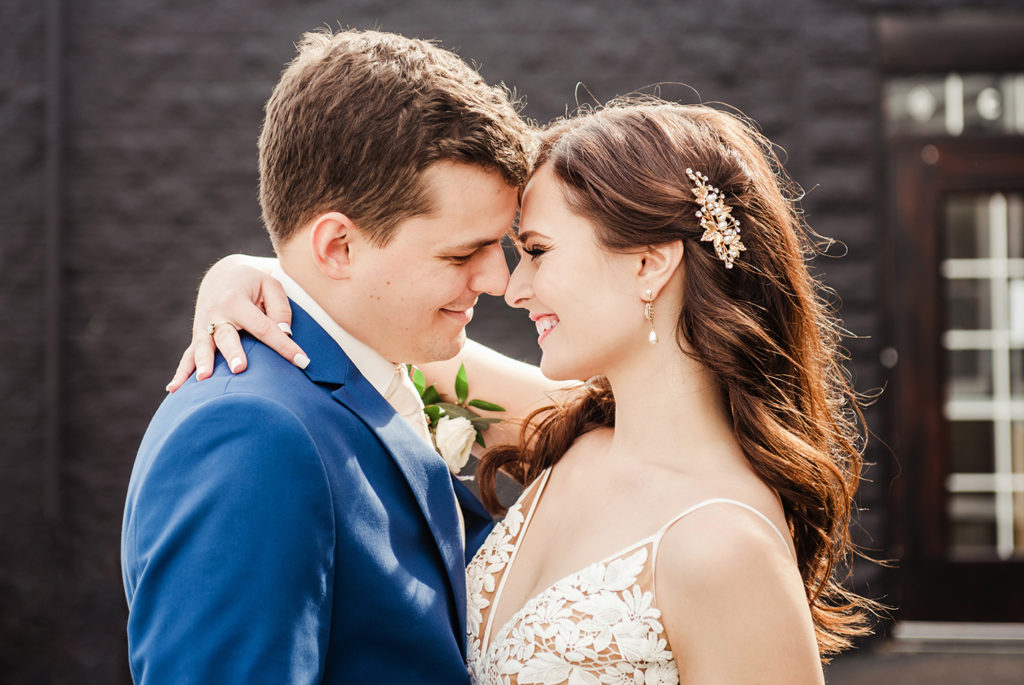 K.E.: Always a good idea to have a well rounded portfolio with different types of photography, in your situation. As a DJ, I do a lot of different types of events and it helps keep you on your toes and helps you be creative in multiple ways. Describe your perfect client?
J.M.: My perfect client is someone who has been following my work for awhile and knows they want to book me right away. Someone who feels like they know me, before meeting me, and loves my editing style just as much as I do. I want to work with people who value what I can offer them and know I'm more than just a photographer.
K.E.: YES! I hear you on all fronts with that! From a DJ stand point, sometimes clients look at them as just button pushers or cheesy comedians and I stand a firm ground on being the anti-thesis to that. As you know and have witnessed personally, I offer something extremely rare that clients absolutely will not get with any other entertainment company. I like how you put it with  wanting to work with clients who value what you can offer them because sometimes they don't always see that or what truly separates vendors like us, from the rest. What is a good tip for couples that are starting to look for their wedding photographer?
J.M.: What I say to many couples is… book a photographer who you love as a person AND artist. You are with your wedding photographer all day long and besides one another… they are who you will be spending a majority of your day with. I understand budget is very important, but I also understand photography is a huge part of how you will always remember your day. After the wedding is over, your photos will be how you remember everything. I've had couples reach out to me with a lower budget and many have increased their photography budget to book me once they see the value in what I can offer to them.
K.E.: Solid advice! Have you ever had to deal with a bridezilla or bad client, and if so, how did you get through it?
J.M.: I have only had one very bad experience with one bride and that was during COVID-19. She was trying to get me to work illegally during the pandemic, but luckily that is done and over with now. My friends and family helped me get through it because it was one of the worst experiences I have ever dealt with. I'm glad I stayed true to myself and I know I did the right thing!!!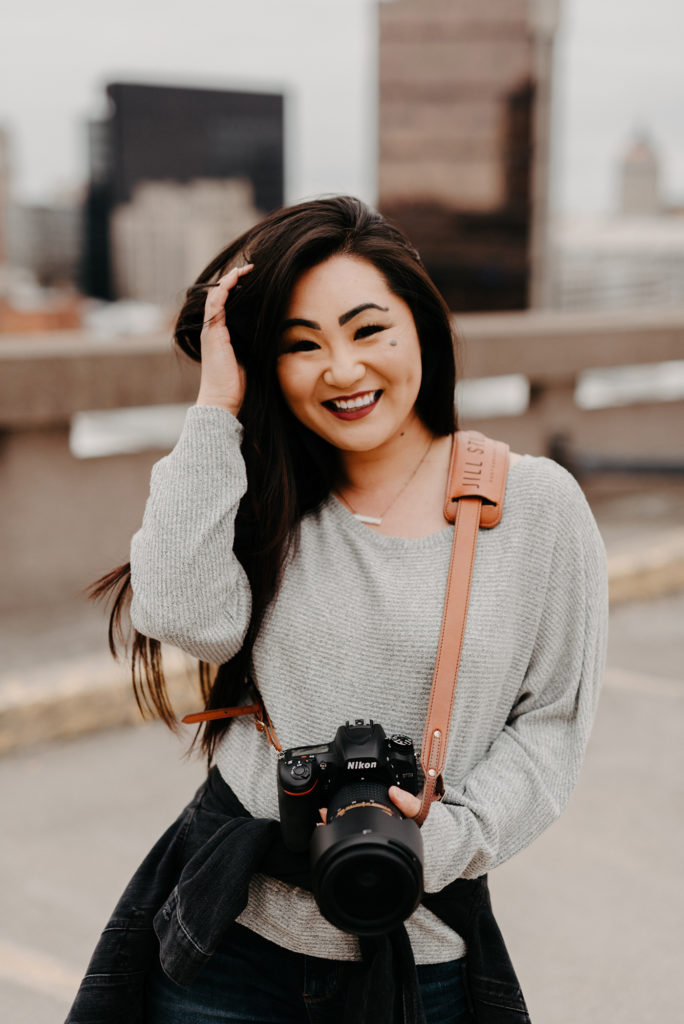 K.E.: I've seen a lot of businesses operating in an unlawful manner during COVID and I just ask myself why they would risk it. But then I realize that the ones who are doing it, are not on the same level as we are and not as professional. Clients should understand that unfortunately we are bound by state rules and if they want the best versions of us, then they might have to wait it out a little until we can do what we love to do, legally and safe. What is the one camera accessory you can't ever live without?
J.M.: My personalized camera strap!!!! It's from Fotostrap and I've been using them since I went full-time!!!
K.E.: How cool! I'll have to check that site out. Maybe I can get a custom Kalifornia Entertainment one for mine. *laughing* What has been your top 3 favorite places to shoot at?
J.M.: ICELAND is definitely number one!!!! That was truly a dream come true. I'm also super excited for my Colorado/Utah/Arizona trip this Fall. I also love shooting in the Finger Lakes, like Watkins Glen. Last Summer I traveled to Cincinnati, OH for an engagement session and loved everything about it.  I'm hoping to travel more in the future for shoots and sessions, but we will see! I have my first out of state wedding in October, so I'm really looking forward to that.
K.E.: Once you get to travel and do what you love, it's a whole different ballgame. Destination weddings are so much fun. Plus, when booked to go and work in exotic or beautiful locations, it gives you this sense of accomplishment like no other. You instantly are put in a different class as a vendor that's at the top of the industry. What do you think the wedding industry will be like in the future?
J.M.: I can see the wedding industry becoming more minimal. I adore those who step out of the box and go towards a more "nontraditional approach" for their wedding day. Some of my favorite weddings had less than 30 people at their wedding and there is something so special about intimate weddings. I was still there for 8-10 hours and I felt like a guest and talked to everyone there. If I could relive those wedding days, I would! I'm so excited for my one couple "eloping" in the Adirondacks next month and fully embracing their next chapter in life together.
K.E.: You know me…nontraditional is always something I will never push back on since I focus on delivering non cookie-cutter services. Those smaller weddings where you can have a touch point with each guest is great. It doesn't seem so robotic and gives you more of a personal touch with things. And you get to have some real interesting conversations with A LOT of people. *laughing*  What advice can you give to those who want to get into photography and want to start doing weddings?
J.M.: Get as much education and experience as you can! I'm almost five years into doing it full-time and I'm still learning and growing every day. Make friends in the wedding industry as well because they will understand you more than anyone else. Some of the best friends I have made in the past few years have come from professionals in the wedding industry. Also, be sure to keep your blinders on!!!! Don't worry about what other photographers are doing and how much "success" they have. I've learned some photographers are very good at curating what they want people to think about them and it's not always true. First starting out, I was always envious of how successful people were and now I just work on bettering myself and how I can grow as a business and individual. Focus on yourself and what makes you unique and I promise you will thrive!!!
K.E.: Incredible advice! And I can tell you that there are a lot of good salesmen/women out there that don't have the quality or services to back it up. They sell clients on promises, sparkles and glam but then the services don't match what they sold on. It's unfortunate but that's part of the industry and why it's so important for brides to really look at what they are paying for. Offbeat question…if you and your camera were invisible for one day and you could go anywhere in the world, what would you shoot?
J.M.: If I could go anywhere in the world, it would probably be Ireland or Thailand. I would shoot anything I could because this world is so beautiful.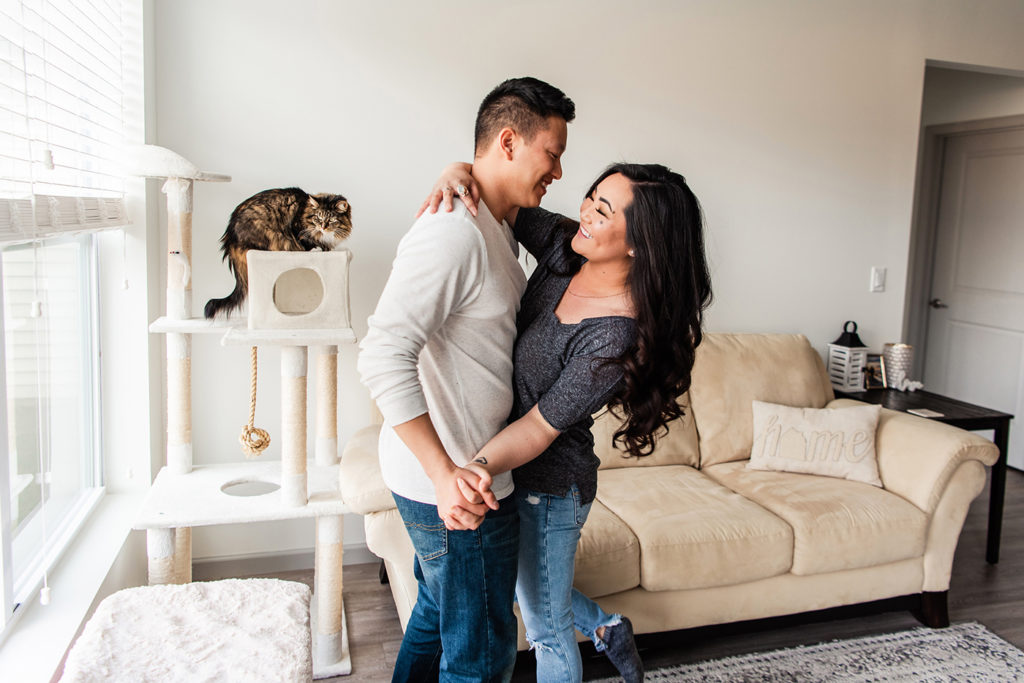 K.E.: My wife wants to visit Thailand one day. I would love to go to Tokyo and maybe backpack through Europe! If you weren't a wedding photographer, what would you be doing?
J.M.: In college, I also minored in gerontology (the study of aging). I adore the older generations and helping them so I'd probably work in an assisted living home or as an art therapist with the elderly.
K.E.: Art Therapy….now THAT's really cool. And it makes such a dynamic impact on people too. As we wrap up the spotlight, is there anyone you would like to thank?
J.M.: My parents and my high school art teacher, Ro!! If it wasn't for them I would have never found my way to photography or be where I am today. And a huge thank you to all my amazing clients who continue to support my dream. I'm truly blessed!!!
K.E: Thank you so much Jill for your time! Maybe one day we'll get the opportunity to work a wedding together in Thailand or Ireland! *laughing* Stay safe out there and see ya at the next wedding….
---
At Kalifornia Entertainment, we believe that even though a wedding lasts a day, the memories last forever. There is no better way to keep those timeless memories for the rest of your life than by having Jill Studio Design & Photography as your photographer of choice. To reach out and inquire about her services, you can get in touch at the following links:
Website | www.jill-studio.com
Instagram | www.instagram.com/jill_studio
Facebook  | www.facebook.com/jillstudiophoto
---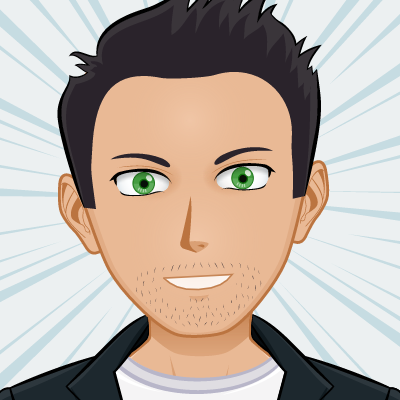 DJ Kalifornia (Joshua V.) is an 13 time finalist and 5 time winner in the annual Best of Rochester City News Poll as Best Rochester DJ, voted upon by thousands of people over the years as a finalist and winner. He was also a finalist in the WHEC's Channel 10 News weekly "Rochester Rocs" award as Best Live DJ, nominated in the annual prestigious "Roc Awards" as Best Rochester DJ, as well as a winner and finalist in the Democrat & Chronicle Choice Awards as Best DJ In Rochester.
Kalifornia Entertainment, as a company, is an annual multi-award winning business with achievements from The Knot, Weddingwire and other online wedding directories.  The business has achieved over 500+ five star reviews in total and has been placed on 50+ PROVEN preferred vendor lists. DJ Kalifornia was the leading long time successful resident DJ at Rochester's beautiful ONE and Two89 nightclubs in the East End District, as well as resident at many other nightclubs in the area. He was a long time monthly resident on Party 103…a worldwide radio station with millions of listeners and world renowned top global DJ's. You can see him play at other nightclubs all over as a special guest or headliner from time to time when not doing private events.
He currently writes for DJ Times magazine (now DJ Life Magazine), which is the biggest DJ specific world wide publication with millions of readers spanning across the planet on every continent and showcases the worlds best DJ's. His articles discuss how to get an upper edge over the competition and how to apply strong marketing techniques, strategies, social media, Public Relations and diversity in a way that places you as an industry leader and gain more business. The magazine featured him in a full article, in April of 2020. 
He's been a resident DJ at just about every major nightclub in the Rochester, NY area over the years (and has played all over elsewhere as a guest and resident DJ), was the founder and creator behind the Rochester Zombie Prom, Showcase of The Arts, One Night In Heaven Fashion Show, and many other popular large scale events around WNY. He has thrown hundreds of established and successful themed events, themed weddings (considered the best and #1 elite in Rochester for putting together unique themed wedding receptions) and is very well known through out many different social and business groups and circles in WNY. His experience, vision, knowledge and the ability to make your wedding or event stand out from the rest, puts him at the top and head of the industry that no one else can duplicate, when it comes to being your DJ or entertainment vendor of choice.