If Your Wedding DJ Isn't Doing These 8 Things, You're In Trouble . . .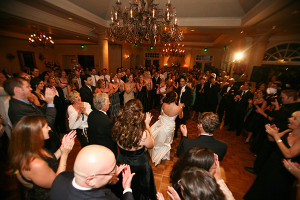 We all have heard horror stories about overpriced and under prepared wedding DJs. Yes, a wedding DJ can truly make or break a wedding reception – which is why this is one of the most important decisions a couple can make when planning their special day.
A great wedding DJ is not only very talented, but thoughtful, passionate, a good listener and is conscience to the needs of the couple getting married, which is what it's all about.  Period. It's all pretty obvious, but for some reason with many wedding DJs, it's not.  And for that reason, they just don't get the job done and the wedding is a disaster.
A great DJ is many things, so here are our 8 Signs Of A GREAT Wedding DJ that explains what they have to be for your Rochester wedding:
1 – GREAT DJs Listen!
A great wedding DJ will closely listen to your instructions and make sure they understand your EVERY wish.  Great DJs know this is the biggest day of your life, and that you're trusting him/her with determining the flow of the day.  And they take the responsibility seriously, ALWAYS putting the needs of the couple first.
2 – GREAT DJs Pronounce The Names Right!
Professional DJs & Master's of Ceremonies take the responsibility of your formal announcements very seriously.  With this, they make sure EVERY name is pronounced correctly.  They practice this and go over it with the couple  beforehand to make sure it's perfect.  Nothing is more unprofessional than a DJ or MC mispronouncing someone's name wrong in the wedding party.
3 – GREAT DJs Play YOUR Requested Music, and read the crowd . . . The perfect combination!
If your DJ is a professional, he or she knows that having the Bride and Groom's favorite song(s) are paramount. Just as important is having a DJ that knows how to read a crowd and play to that crowd. If he or she doesn't,  the event could be a disaster. It's a combination of preparation and experience, something that many DJs simply don't do, amazingly enough. Experienced club DJ's are generally the best or considered experts when it comes to this because of having an enormous amount of time to perfect this trait when playing to hundreds of different people through out the week in bars or clubs.
4 – GREAT DJs Plan Ahead With The Venue!
A great DJ always contacts the venue before the wedding day to secure all setup logistics – when the doors open, where to park, where to bring in the equipment, any particular venue rules, etc.
5 – GREAT DJs Never Assume!
A great DJ never assumes.  For example, he or she will have exact directions to the venue beforehand.  This may sound strange, but there have been many instances of when DJs were late to a wedding reception and didn't have proper time to set up accordingly.
6 – GREAT DJs Test Everything Ahead Of Time!
Great DJs arrive at least a couple of hours before the event begins to unload equipment and set-up and test the sound system and lighting.  Great DJs adjust sound levels, check microphones, and position speakers to take advantage of the room's acoustics.  Every location has it's own distinctive acoustics, and a great DJ knows how to maximize this.  If outdoors, great DJs adjust the sound according to layout, weather, etc.
And a great DJ ALWAYS has a backup system ready to go in case of equipment failure.
7 – GREAT DJs Are Poised, Presentable Professionals!
Great DJs are always well dressed, well groomed, well rested, relaxed and in control.  Again, this may seem obvious, but that's not always the case!  This comes with thoughtful preparation and of course…tons of experience.
8 – GREAT DJs Always Work & Plan Ahead With Others Involved!
Great DJs always synchronize their efforts with those of the venue staff, wedding photographers, videographers and other involved to ensure a seamless flow among everyone during the entire event.  A great DJ locks down all logistics and timing BEFORE the event, not during!
So in conclusion:
A great DJ is a well prepared DJ
A great DJ puts the couple first, rather than his or her own interests
A great DJ will help you to create a lifetime of great memories
Kalifornia Entertainment is your #1 source for private events. We strive to create an enjoyable and memorable time for our clients, whether it's a wedding reception, corporate event, Birthday party, school or college event or fashion event. We apply the highest standards of excellence to our DJ and MC services and stand by our word in delivering nothing but excellence at a price that can not be beat. From more casual to intimate venues to large scale and elegant, Kalifornia Entertainment provides 'the life to your party'. Our honesty and business ethic is what our clients can depend on and will always come to know when we do their event!