Wedding venues require a substantial investment of time, money and effort in getting them ready for the festivities at hand. All this is to transform the venue and give it an image worth the posterity offered by wedding memories and photos. One of the things that can be done to transform a venue into something amazing, is by having colored uplights through out the reception. We put together an informative blog entry to help you understand what they are and How to Enhance Your Wedding Using Uplights.
What are Uplights?
Uplights refer to lighting equipment used to light up walls in wedding venues from floor to ceiling. These lights are capable of completely transforming venues from plain rooms to stunningly colorful spaces. The lights can be set to any color preferred by the wedding planner or bride & groom to complement other decorations or even the bride and bridesmaids' dresses.
In the past uplights were made of bulky lighting fixtures with light bulbs and covered by color gels to give out the required light color. These required professional installation and would consume a lot of electricity due to the nature of the bulbs used. To change the color of these traditional uplights referred to as Par Cans; one had to change the color gels. Today technology has improved the design of uplights. Modern uplights are made of numerous LED's that can produce a variety of different colors as per the user's preference.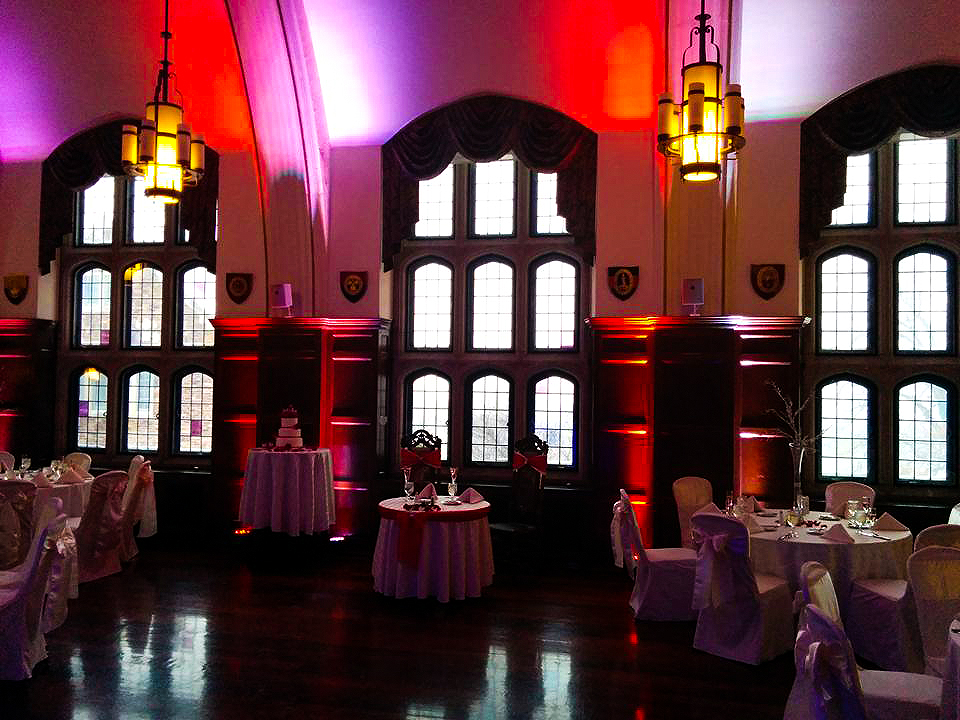 Benefits of Modern Uplights
Uplights that make use of LED lights to display different colors and transform wedding venues into spectacular sights come with a host of benefits. First of all, LED uplights tend to have a wide variety of colors that can be displayed as per the user's preference. The lights can be set to change colors at different time intervals or according to the beats on different songs. These changing colors offer photographers a great chance to take a variety of attractive photos in different lighting conditions.
LED uplights are also energy efficient and can be installed easily without the need for professionals. Since these lights can be installed without the need for any electrical circuitry adjustments, they can be laid around the wedding venue easily. It is also interesting to note that LED uplights are environmentally friendly as they last longer than normal bulbs and consume way less electricity.
LED uplights come with easy to use controls that can be operated conveniently to keep them on as required displaying the chosen color combination effortlessly.
Getting the best setting for your wedding reception has been made easier by the evolution of lighting technology. The use of uplights has gained a lot of popularity in enhancing wedding venues. At Kalifornia Entertainment, we can transform any event space and make the atmosphere extra special.
Please Note: Kalifornia Entertainment NEVER charges you extra for the use of uplighting. Many other DJ services and businesses may add on an extra fee for them, but we do not. If you wish to have this type of lighting at your wedding or private event, but are price conscience, trying to save money or on a budget, we give them to you at ZERO COST! Contact us today for more information!