It's that time of the year again when Rochester's City Newspaper conducts their Best of Rochester 2019 Readers Survey Poll. They have different themes each year and this year was all about being at the top (hence the mountain top and flag design). Readers and resident of Rochester have the opportunity to vote on who they believe or think is the absolute best when it comes to certain things in the city. There's 100 different categories that fall into the main buckets of Best Food & Drink, Best Goods & Services, Best Local Color, Best Arts & Entertainment and Best Nightlife. One of the categories under the Best Arts & Entertainment bucket is Best Live DJ, which I've not only been an 11 time finalist year after year, but this year I'm happy to announce that I've become the 5 time winner!
Best of Rochester 2019
I've won it four times (2012, 2014, 2016, 2017). Last night (10/23/19), was the award ceremony. The newspaper holds this annual ceremony every year in the top atrium of Village Gate and it gives all of the finalist and residents a chance to come and sample what the finalists have to offer, whether it's food, drink, music, etc. They also announce who the winners are for the first time. I usually go with my wife so we can have some fun, talk with everyone, meet many of the other finalists and watch the winners get announced. This year, I didn't think I would win since I was up against some pretty impressive finalists but when they came to the Best Live DJ part, I was shocked to see my name listed.


The way this poll works is they begin with preliminary voting, which means people have to actually write in their answers under each category. City Newspaper does not choose themselves. It's a reader and citizen poll, so the general public gets to write in and add who they strongly believe to be the best. After a couple of weeks of the preliminary voting, City News then takes the top 4 (or sometimes 5 if there is a tie) written in answers for each category and places them all into another survey which becomes the finals. Readers and citizens then go and vote who they believe should be the winner based off of the top written in candidates from the preliminaries. City is very very strict on how people vote. They check IP addresses, emails, and general info on every single vote that is cast as to make sure that people are not stuffing the ballot or cheating in any way, which is great because then it actually becomes a fair and honest contest.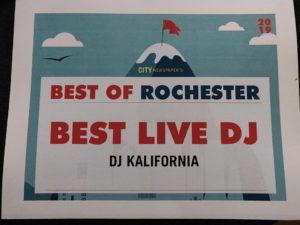 This year, according to City on their website, there were over 15,000 people that voted, just in the finals. That is an incredible amount of people who voted in both the preliminaries and finals. To see that so many people voted DJ Kalifornia (or Kalifornia Entertainment) as the best Rochester DJ once again is such an honor to have and hold. Other Rochester DJ companies out there will promote themselves as the best but when you have a certified win like this with over 15,000 people voting and you end up at the top with a real award from an established and well known local publication…then everything that other companies promote doesn't really mean too much and is just hot air.
So once again, thank you Rochester for making me an 11 time finalist and thank you for making me a 5 time winner as Best Rochester DJ! We'll be celebrating this one for weeks to come! To see the whole list of Best of Rochester 2019 winners in all of the categories, check out the City News' website by clicking here.
---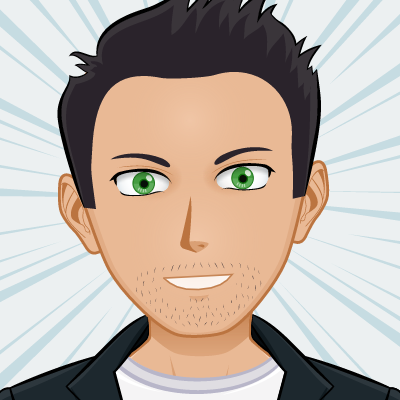 DJ Kalifornia (Joshua V.) is an 13 time finalist and 5 time winner in the annual Best of Rochester City News Poll as Best Rochester DJ, voted upon by thousands of people over the years as a finalist and winner. He was also a finalist in the WHEC's Channel 10 News weekly "Rochester Rocs" award as Best Live DJ, nominated in the annual prestigious "Roc Awards" as Best Rochester DJ, as well as a winner and finalist in the Democrat & Chronicle Choice Awards as Best DJ In Rochester.
Kalifornia Entertainment, as a company, is an annual multi-award winning business with achievements from The Knot, Weddingwire and other online wedding directories.  The business has achieved over 500+ five star reviews in total and has been placed on 50+ PROVEN preferred vendor lists. DJ Kalifornia was the leading long time successful resident DJ at Rochester's beautiful ONE and Two89 nightclubs in the East End District, as well as resident at many other nightclubs in the area. He was a long time monthly resident on Party 103…a worldwide radio station with millions of listeners and world renowned top global DJ's. You can see him play at other nightclubs all over as a special guest or headliner from time to time when not doing private events.
He currently writes for DJ Times magazine (now DJ Life Magazine), which is the biggest DJ specific world wide publication with millions of readers spanning across the planet on every continent and showcases the worlds best DJ's. His articles discuss how to get an upper edge over the competition and how to apply strong marketing techniques, strategies, social media, Public Relations and diversity in a way that places you as an industry leader and gain more business. The magazine featured him in a full article, in April of 2020. 
He's been a resident DJ at just about every major nightclub in the Rochester, NY area over the years (and has played all over elsewhere as a guest and resident DJ), was the founder and creator behind the Rochester Zombie Prom, Showcase of The Arts, One Night In Heaven Fashion Show, and many other popular large scale events around WNY. He has thrown hundreds of established and successful themed events, themed weddings (considered the best and #1 elite in Rochester for putting together unique themed wedding receptions) and is very well known through out many different social and business groups and circles in WNY. His experience, vision, knowledge and the ability to make your wedding or event stand out from the rest, puts him at the top and head of the industry that no one else can duplicate, when it comes to being your DJ or entertainment vendor of choice.