Many future brides and grooms either forget or fail to realize the importance of having a DJ or MC that goes above and beyond not only on the night of the wedding, but also throughout the planning months leading up to the big day.  This is an area of service that we, Kalifornia Entertainment, excel in.  With today's technology and the saturated DJ entertainment world we live in, it seems that almost anyone can press play; but is that acceptable on one of the most cherished nights of your life?  The value of service that Kalifornia Entertainment provides goes far beyond preparing a play list and speaking a few words on the microphone.  Read our blog entry on The Jobs and Responsibilities Of DJ's That Go Beyond The Music.
---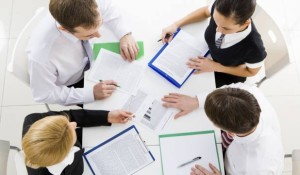 While recently reading some of our reviews, emails, and feedback that many of our happy brides and grooms provide to us after their wedding, I noticed that many of them, if not all, touch on these important responsibilities that we bring to all of our weddings.  Value goes beyond a price tag and the music that is played, and here are a few of the services that we excel in that many others fall short of providing.
Checking In With The Bride and Groom Throughout The Night
What can be worse than not having an idea or vision of how your wedding is going to flow?  Keeping the bride and groom, and sometimes even the parents, updated with formalities, timing, and expectations is so important to do throughout the reception.  Although, we go over literally everything at the final meeting, things can change, and its our job to be prepared and keep the flow in order.  Most importantly we want to make sure that our brides and grooms are having the time of their life and we are exceeding their expectations.
Working With and Helping All Your Vendors
The saying "happy wife, happy life" translates to us as DJ's and MC's as well.  If your photographer, caterer, and wedding planner are all working together and are happy, then the night will flow without any unneeded issues.  Long before your guests arrive into the reception room, we game plan with your vendors.  We inform the photographer and videographer if there will be a spotlight for the first dance so they can adjust their camera's.  We let them know what formalities are taking place and the expected times. We help them plug into our equipment if they need audio.  We make sure they are in place when we start intros and other formalities. We also work very closely with the wedding planner to line up the bridal party for introductions, understand when meals are being served, and properly timing your dance sets along with many other things.
Being Responsive To Your Questions and Concerns Leading Up To Your Wedding
When the stress of planning a wedding begins to weigh down on you, we are here to help with ideas and suggestions.  Many of our brides and grooms are young, and in many cases working to establish their future while planning a wedding that they know not a lot about.  Providing ideas and responding as quick as possible will put everyone at ease and have less stress.  We pride ourselves in helping to answer questions regarding music, production and video montages, photo booths, and other services that you might be in the dark about. We also give a lot of advice and suggestions on other services such as limos, photographers, venues, wedding officiants, and many other vendors that we work one on one with. You can see our Preferred Vendor list here.
Trusting Us and Learning Your Style
Every wedding we do is different from the next and our goal is to make your wedding unique to your style.  It starts when we first meet and we ask you about your music preferences and your visions for your wedding.  Your style in music and the ideas that you have are the blueprints to your wedding.  By the time your wedding approaches, we will have a great understanding of what you are looking for and from there we want you to enjoy yourself and trust us as professionals.
Kalifornia Entertainment understands the importance of providing top notch, 5 star service from start to finish.  We enjoy getting to know our brides and grooms as friends, and by being prepared, organized, understanding, and going above and beyond your needs we can help make your dream wedding possible. Contact us today for a no obligation quote on our services!