As most would agree, what really makes a wedding reception memorable for everyone in attendance is the music.  It sets the tone for the entire night, and we've all been to great weddings and we've all been to awful weddings.  And it's usually the music that determines those feelings. We put together a list of 5 Wedding Reception Music Mistakes To Avoid, for our brides and grooms that are putting together their music choices for their big day.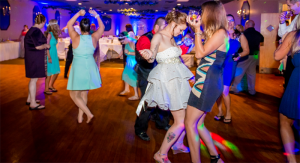 Kalifornia Entertainment feels such an incredible responsibility when a couple literally puts the fate of their wedding reception in our hands. We're honored for the opportunity, and we take this very serious in order to provide a lifetime of memories.
So while your wedding dress may be perfect, the food scrumptious, the weather delightful . . . remember it's the music that matters.
1 – The Never-ending First Dance
Sure, "Freebird" and "Stairway To Heaven" are beautiful songs, and may take you back to the day you first met, but they're both about nine minutes long.  And this is an eternity to not just the guests, but to the couple alone on the dance floor in front of everyone.  We suggest if you really must go with one of these types of songs, work with us to cut it down to three minutes or so.
2 – Pump Up The Volume . . . NOT!
This is a wedding reception, not a concert or a frat party.  Concert volume during the reception will frustrate many guests, and make it impossible for them to talk to one another.  A good DJ will be painfully aware of maintaining a respectable volume level through out the night for both the cocktail/dinner hour and during dancing time.
3 – R-Rated Selections (And Worse)
OK, so 2 Live Crew or Lil Wayne may be your favorite artist of all time, but you need to be careful about having those types of songs played at your wedding reception.  Remember, you're not only entertaining yourself and your new spouse, but you're also entertaining your guests.  Pay close attention to making sure you don't "cross the line" with music requests that can be offending to some, especially if there are parents and little kids in attendance.
4 – Too Much Of Your Absolute Favorites
Four hours of nothing but Ludacris, Taylor Swift or Def Leppard will ALSO be something your guests will be talking about for ages – and it won't be pretty.  Mix up your music requests.  Work with us here at Kalifornia Entertainment, who will listen to your wants and will also offer suggestions to play the best mix of variety for all your younger guests and the older guests. Allow us to do what we do best, read your crowd….a skill that our DJ's have mastered by playing in high end clubs and bars for all age groups!
5 – Just Because They Have Speakers And Some Music…Doesn't Make Them A Wedding DJ
You'd be surprised how many post-wedding horror stories we at Kalifornia Entertainment hear about. Accessibility to music and the ease of storing and transporting it has spawned a new breed of Wedding DJ: 'THAT GUY'; the groom's buddy, the brides teenage cousin, the waiter who can serve and spin at the same time. Or the recent tuxedo companies offering cheap DJ services – at least you know they'll be dressed nice. All big mistakes.  Don't have your friend who has a great music selection DJ your wedding with his iPod.  Wedding DJ's are artists who understand how to manage the entertainment from the first song to the last. The wedding reception should be a memorable experience that puts the bride and groom center stage and keeps them there.
As you can see, there's a host of issues to consider when planning your wedding reception music.  But as we try to stress, working with a reputable and experienced DJ makes all the difference.
If you're looking for one of the area's premier Rochester wedding DJ company's, contact Kalifornia Entertainment today!