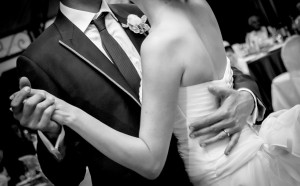 Your big day is important. It's one of the most memorable times of your life. Things that didn't seem like a big deal prior to this moment are now crucial to creating your ideal wedding. Luckily for you, all the big details are covered. You've decided on your theme, photographer, décor, dress, DJ, venue, and all the other services needed. Now that you have a DJ there are a lot of things to take into consideration for the music at your wedding but today we are just going to focus on a few tips regarding How To Choose The Perfect First Dance Song For Your Wedding.
Your first dance is something you'll remember for the rest of your life. It's truly one of the most memorable parts of a wedding. To some, the first dance may be about being timeless; to some it may be about conveying unique personality; to you it may be about something entirely different. Here are a few things to consider when choosing your first song.
Sentimental – Are you a hopeful romantic? Do you want your song to reflect romance? Maybe a sentimental song is the way to go. A sentimental song can be a song that reminds you of a time and place [song that was playing in the background the first time you kissed] or it could also be sentimental in the way it reminds you of your partner or of your relationship. There are a lot of different types of sentimental songs, the question is – is that the song you want for your first dance?
Personality – Are you and your significant other big personality types? Consider a song that reflects your uniqueness. Whether it's a Disney theme song that echoes love of your favorite childhood movie or a classic that shows off your recently learned ballroom dance moves or even a dance that integrates your love of hip hop, it's important to consider how you want your personality conveyed. Songs that reflect your personality can be classy and timeless, fun and sassy, silly and adventurous or something that we haven't even tapped into. [Insert your personality here]
Theme of wedding – Does your wedding have a theme? Consider a song that reflects the theme of your wedding so that it naturally compliments the rest of your special day. Having a country themed wedding? Why not surprise your guests with a square dance. Having a wedding at a famous jazz venue? Consider a classic from Louis Armstrong. Picking a song that compliments the theme of your wedding is always a great idea.
Dance – Have you and your partner been taking dance lessons? Thinking about what type of dance you want to share can play a significant role in picking the perfect song for your first dance. Also key things to remember: Can the bride do a dance to this song in her wedding dress? You may be laughing, but let's be real, that's an important question.
In closing, should you need any assistance finding the perfect first dance song for your wedding, please don't hesitate to contact Kalifornia Entertainment for ideas. It would be our honor to assist you with this decision.