TIPS ON CHOOSING THE BEST DJ FOR YOUR ROCHESTER HOLIDAY PARTY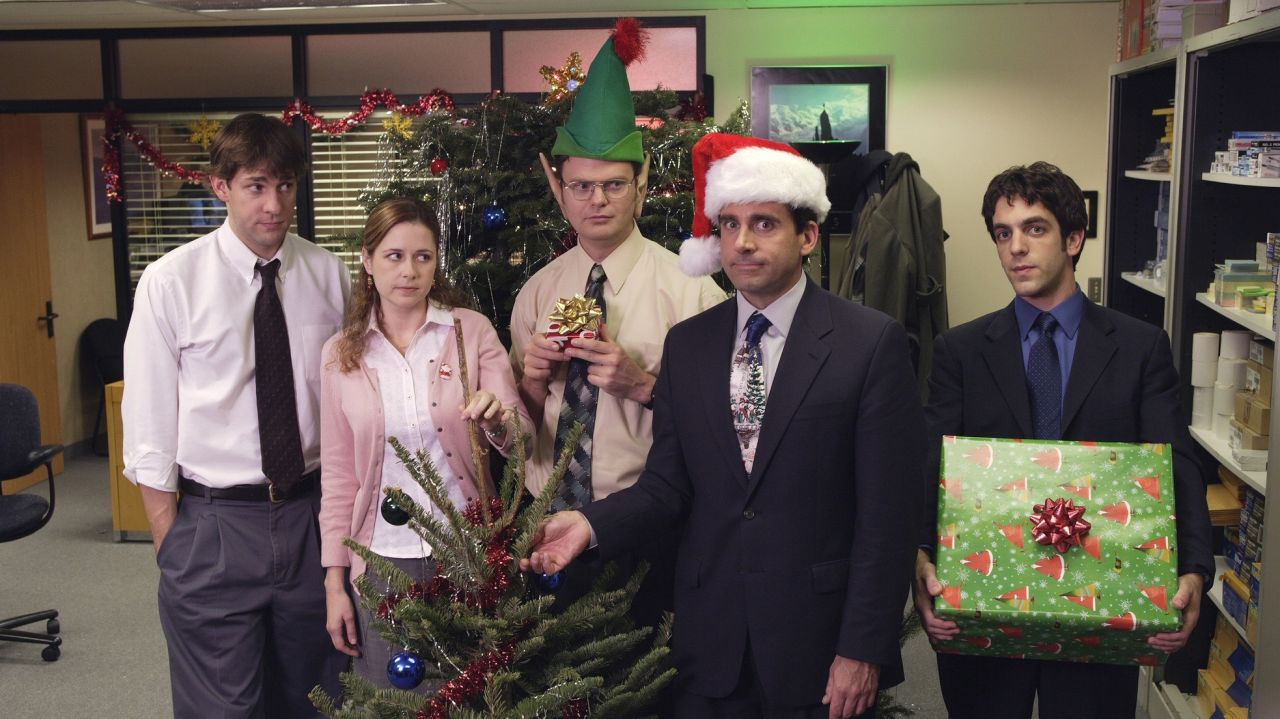 The last thing you want is your company office Christmas or Holiday party in Rochester to be boring. Read these tips on choosing the best DJ for your Rochester Holiday party!
---
The summer has ended, Fall is almost out of here and before you know it, the holidays will be arriving. Many people are thinking about Christmas and the holidays at this point in the year but did you know that NOW is actually the best time to be thinking about choosing your DJ for your office / corporate Christmas party even before Thanksgiving arrives.  Before you know it, we'll be pouring the egg nog and putting up the mistletoe at Christmas parties all around the Rochester area. The "music" at your private company or corporate Christmas party should not be taken lightly.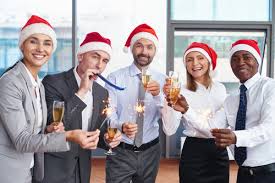 While Kalifornia Entertainment has forged an amazing reputation for being one of the best and most in-demand Rochester wedding DJs, I'd also like to share that same passion for creating the most amazing soundtracks for your corporate or private office Christmas/Holiday party. Even the most strict and professional workplaces deserve to unwind and have an incredible amount of fun at an annual festive party. The best music is one of the most important factors in making sure your party is the best social event of the year in your company and employees are still talking about it weeks later at the water cooler. We'll get back to Rochester Wedding DJ stuff soon, but in the meantime, here's an exploration of a few tips on choosing the best DJ for your Rochester Holiday Party.
---
Book A DJ Early Is Important
The same belief holds true for Christmas parties and private events as does for Rochester weddings. If you'd like to have best and most respected DJ at your Christmas party, book early, because the best DJs book fast and far out.  This is even more important when you are dealing with my company, because I am an "owner-operated" company. This means you get one excellent DJ from start to finish at your Christmas party. Also, do not wait until December 1st to begin looking for your Rochester DJ. The selection of great DJs will be greatly diminished, if not non-existent by that time.
Research A Few DJs To Get To Know Them
If you are reading this post right now, you are most likely doing a "search for a great DJ for your Rochester, NY Christmas party." Well, what I need you to do right now is click on the link that says "Contact Us" and let's talk. I am well aware that it's not that easy. Check out the DJs reviews and referrals and make sure they have a high end and beautiful looking website with professional sound and lighting.  Every DJ has a certain specialty, but all the professional ones in Rochester will know how to take your party to the next level with a perfectly mixed set of songs from a large well-rounded library that caters to young and old.
Hire An Experienced Rochester DJ
Price should not be your only factor in deciding who will be your DJ. The more experienced DJs are going to be a little higher-priced because they not only have the reviews to back them up, but they have also invested in top of the line equipment, which will make for the best sound at your Christmas party. The lowest price is not always the best option, and the most expensive DJ is not necessarily going to give you the best party either. You should decide to talk with 2 or 3 DJs and then go from there. Since I am an "owner-operated" DJ service, I love to meet with my clients before their wedding or event so they can be somewhat comfortable with me and get to know my personality a little bit.
Make The Music About Your Company
One of the benefits to booking your Christmas party early is you can get a head start  on selecting your music. Depending on how large your office is, you might be able to circulate an email chain around your office and have everyone respond with a song they'd like to hear, and then you can send that list over to your DJ so they can begin planning the music for your all-important Christmas party.  If you are able to get input from the people in your office, this is a sure-fire way to make sure the playlist at your Christmas party is the most fun and memorable and people will remain on the dance floor the entire night.
Have A Contract
Professional wedding DJs in Rochester are going to conduct their business "contractually". Meet with your DJ beforehand to discuss the where and when of your company Christmas party. Be sure you ask them if they have ever played at the specific venue that you have chosen for your party. You also need to ask them when they will be arriving for set up. When you book your private event / office Christmas party with Kalifornia Entertainment, there are NO set up fees or break down fees. I'll be arriving at least 2 to 3 hours early to set up and do a soundcheck before your party. This is to create 100% peace of mind for not only YOU, the client, but also ME, the DJ. If I have not been to a venue, I will request the contact information of the venue manager and will set up a time to meet and do a quick walk-through of the venue for power and other logistical (load-in) questions.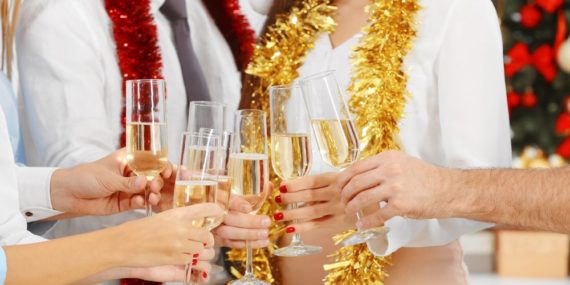 Hire Kalifornia Entertainment For Your Christmas Party
Nothing wrong with a little shameless self-promotion.  Whether you are planning on having your Christmas party in Rochester, Greece, Irondequoit, Spencerport, Hilton, Penfield, Brighton, Webster, Pittsford, Victor or some other region in Western NY, make sure you read over this blog post before you proceed in booking your DJ. As I tell my wedding clients, the DJ that you decide to hire is going to end up making or breaking this night for you.  And if you are the one being put in charge of planning and getting the details together for your Christmas party and end up hiring a bad DJ, you'll have to live with your decision for the next 365 days which could lead to tense and uncomfortable times as you get some odd looks from co-workers in the hallway or in the breakroom. Regardless of who you decide to go with for your Rochester Holiday Party, we hope it's a fun and memorable (in a good way) evening for all of your co-workers, and you become the office hero!
---
Did you find this post about TIPS ON CHOOSING THE BEST DJ FOR YOUR ROCHESTER HOLIDAY PARTY informative? Are you ready to meet or book the #1 most in-demand Rochester DJ for your next big event? Fill out this inquiry form and send us all of your details! We'll get back to you right away with more information!
---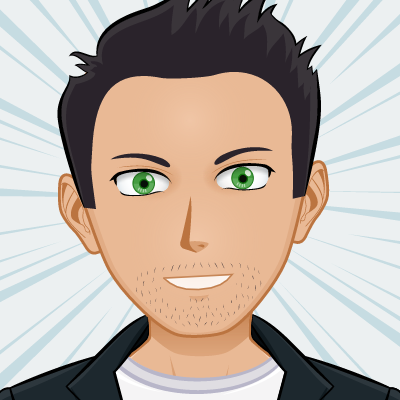 DJ Kalifornia (Joshua V.) is an 13 time finalist and 5 time winner in the annual Best of Rochester City News Poll as Best Rochester DJ, voted upon by thousands of people over the years as a finalist and winner. He was also a finalist in the WHEC's Channel 10 News weekly "Rochester Rocs" award as Best Live DJ, nominated in the annual prestigious "Roc Awards" as Best Rochester DJ, as well as a winner and finalist in the Democrat & Chronicle Choice Awards as Best DJ In Rochester.
Kalifornia Entertainment, as a company, is an annual multi-award winning business with achievements from The Knot, Weddingwire and other online wedding directories.  The business has achieved over 500+ five star reviews in total and has been placed on 50+ PROVEN preferred vendor lists. DJ Kalifornia was the leading long time successful resident DJ at Rochester's beautiful ONE and Two89 nightclubs in the East End District, as well as resident at many other nightclubs in the area. He was a long time monthly resident on Party 103…a worldwide radio station with millions of listeners and world renowned top global DJ's. You can see him play at other nightclubs all over as a special guest or headliner from time to time when not doing private events.
He currently writes for DJ Times magazine (now DJ Life Magazine), which is the biggest DJ specific world wide publication with millions of readers spanning across the planet on every continent and showcases the worlds best DJ's. His articles discuss how to get an upper edge over the competition and how to apply strong marketing techniques, strategies, social media, Public Relations and diversity in a way that places you as an industry leader and gain more business. The magazine featured him in a full article, in April of 2020. 
He's been a resident DJ at just about every major nightclub in the Rochester, NY area over the years (and has played all over elsewhere as a guest and resident DJ), was the founder and creator behind the Rochester Zombie Prom, Showcase of The Arts, One Night In Heaven Fashion Show, and many other popular large scale events around WNY. He has thrown hundreds of established and successful themed events, themed weddings (considered the best and #1 elite in Rochester for putting together unique themed wedding receptions) and is very well known through out many different social and business groups and circles in WNY. His experience, vision, knowledge and the ability to make your wedding or event stand out from the rest, puts him at the top and head of the industry that no one else can duplicate, when it comes to being your DJ or entertainment vendor of choice.