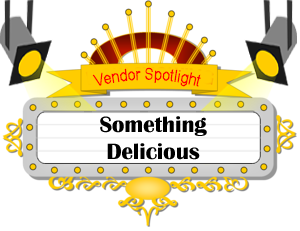 Throughout the wedding industry, you often hear a bride ask countless times for recommendations on where to buy a wedding cake, or cupcakes, from. In the Rochester, NY area you hear one name time after time. Something Delicious. This is a fairly new bakery but the owner, Mina Hoyt has been perfecting her craft for a very long time. She's another one of our preferred vendors who we have passed over happy clients to many times. And we owe plenty of thanks to her as well as she continues to pass brides to us to be their wedding DJ of choice! We have even had the pleasure of being the DJ for her Father's surprise Birthday party not too long ago. So, for the second half of May we bring you our Vendor Spotlight – Something Delicious.
---
Vendor Spotlight – Something Delicious
Kaliforia Entertainment: Hi Mina!  Thanks for taking time out of your super busy cake schedule to speak with us.  We know you have a lot of brides to get to so we'll get things going.  How did you get started in the bakery world and how long have you been baking? 
Mina Hoyt: I was always in the kitchen with my family.  My aunts and mother were always baking!  I remember watching my mother make my aunts wedding cake when I was 10 and thinking to myself, "I could do that!"  When I was a junior in high school, at the age of 15, I went to We-Mo-Co for baking and I rocked it.  I realized then that this was my calling.  I started working for Wegmans at 15 and continued to work in the bakery until I was 22.  Then I started to want to learn more and become more creative and expand my talent to more than just simple birthday cakes.  That's when I went to Jim at Jackson's Bakery and he gave me a job and allowed me to be more creative than at Wegmans.  Then of course, me wanting to learn more, I went to Etna pastry shoppe and that's when I really started to do wedding cakes.  Pretty much after that point, I went to Sweet Sammie Jane's and she taught me so much about wedding cakes and custom cakes.  It's how I learned what a french macaron was.  This exact point in my life is when I realized I could do this all on my own.  I have been in this industry for over 14 years.
KE: That's extremely impressive!  There's not very many people in your industry with that type of experience or who have taken that type of time to learn from multiple mentors.  What type of cakes do you normally create?
MH: I do a lot of custom birthday cakes!  And of course, wedding cakes.  I have done so many different kinds, from 5 tier wedding masterpieces to a 6 inch Mickey Mouse cake.
KE: It's awesome that you're such a well versed and highly practiced baker that can offer all styles of cakes to your customers.  It helps differentiate you and makes you stand out from the competition since you can do it all.  Do you offer custom flavors, gluten free, lactose free or other specialty options?
MH: I do offer custom flavors.  I do the base flavors of vanilla, chocolate, marble, red velvet, lemon and almond.  I have people coming in all of the time asking for unique flavors and I do them with no questions asked.  I can offer gluten free but I am not a GF bakery, so my items are geared towards mostly gluten intolerant.
KE: Do you offer anything other than cakes?
MH: Yes! We offer cookies like Italian, chocolate chip, peanut butter and m&m.  We also do bars.  We have kitchen sink bars (aka 7 layer bars and Magic Bars), S'mores bars, Raspberry Linzer bars, whoopie pies and mini pies.  It also depends on the season too since we have cut outs for Christmas and pies for Thanksgiving.
KE: What has been your favorite cake you've made?
MH: There's so many!  If I had to pick one it would have to be a recent one we did.  It was a boom box cake and it brought me back to the 90's!  Felt like putting my TLC cassette tape in it and jam out in my sweet overalls with one hook down and a striped crop top! *laughing*
KE: We would have liked to see that!  We're a huge fan of 90's music, so doing a boombox cake would have definitely put anyone in that state of mind.  And you can never go wrong with TLC!  What does an average day look like for you in your bakery?
MH: Average?  What is that?  Closest thing to an average day is coming in and looking at what we need to fill in the cases.  Then, checking my orders to see what needs to get done and sitting here and doing everything until around 3am.  It's always eventful here!
KE: 3AM?!?!  Wow!  No rest for the wicked. What has been the hardest part about starting your bakery?
MH: Juggling between the business aspect and the baking aspect of the business.  I have always just came into work and just did my orders and went home.  Now I have to sit and do emails, speak with guests, make sure all overhead expenses are paid and on time, make sure the cases have product in them, make sure my bakers and decorators are making the product consistent and the right way, making sure we have enough product, running around if we run out of something, having meetings with CPA's, lawyers, marketing team, etc. And of course making time to eat and sleep! *laughing*
KE:  Sometimes people don't realize how much goes into running a business. Everyone see's what's on the top, but the middle layers, in cake terms, are the hidden aspect and can be quite a bit of work.  What is your best selling baked good?
MH: It's between 3!  Cupcakes and French Macarons are a huge hit but surprisingly my Brookies are killer!  People love sugar and those bad boys are full of it!  It's a brownie and a chocolate chip cookie filled with buttercream and topped off with more buttercream topped with sprinkles! (queue heavy breathing)
KE: OMG!  Talk about sugar shock!  We'll take two dozen of them!!!  What are your favorite trends when it comes to wedding desserts?
MH: I am loving the "homestyle" look.  I am super particular on making my icing super smooth and it will literally bring me to tears if there's the slight bubble in it.  With the homestyle look, it brings my OCD down to an 8 instead of a 10.  It also looks elegant and simple.
KE: We've always said…take a lot of pride in your work, be a perfectionist, go the extra mile and it will always bring tons of extra business to you all day long!  Do you ever have to deal with bridezillas?  How do you usually handle those situations? 
MH: Not exactly.  Most of the time it's the brides families and friends that will be the picky ones.  I had to deal with a few swearing customers but I just smile and know that at the end of the day, we are still human with strong emotions and I know that their day is far more stressful than mine is.  I just try to keep calm even though I want to scream.  Just a little helpful advice.  Treat your vendors like a human because believe it or not, we stress more about your wedding coming out perfect than we do anything else.  I just want every bride and groom that I come across to have the most flawless day as possible!
KE: We share the same thoughts in that aspect.  A lot of work goes into making a bride and grooms day perfect. Do you have any tips or advice for other people who may be interested in starting their own bakery?
MH: Just do it!  I literally dived head first into this.  You will make mistakes along the way but those are the learning lessons!
KE: Wise advice!  What tips or advice can you give to couples who want to order desserts or cakes for their wedding?
MH: Come in with an open mind and pallet.  Know the kinds of what you would like.  Come in with a budget in mind as well.  If you can't afford something, most of the time I will work with my brides and grooms to bring the cost down.  AND PINTEREST IS YOUR ENEMY WITH CAKES!!  These cakes on pinterest are seriously something out of a Martha Stewart magazine.  You can get inspiration from these places but design your own cake.  It makes it yours and an original that wasn't someone else's idea before.
KE: We have said before that no bride or groom wants their wedding to be exactly like someone elses.  So being unique is what we often tell our clients as well.  If you could bake a cake for any celebrity couple, who would it be?
MH: Mila Kunis and Ashton Kutcher!
KE: Is there anyone you would like to thank for your success?
MH: My husband, Brandon.  Thank you for constantly pushing me even though I want to curl in a ball and die sometimes when I am here for 24 hours straight.  You stay right by my side supporting me.  And my Dad and Aunt's Jo and Linda.  Without these four people, I could never have achieved my dreams!
KE: Thank's Mina for taking these few minutes and answering our questions.  You have been an amazing 5 star preferred vendor, and we look forward to working with you in many many upcoming weddings!  Now, about those Brookies……(queue heavy breathing)
Be sure to follow and contact Something Delicious today if you're looking for an amazing wedding cake, desserts or sweets for your big day!  And if you would like more information on the services that Kalifornia Entertainment can supply for your wedding or private event, contact us today for additional information!
Something Delicious
Website: http://www.deliciousbakeshop.com/
Facebook: https://www.facebook.com/SomethingDeliciousROC
Twitter: https://twitter.com/somthngdelish
Instagram: https://www.instagram.com/somethingdeliciousroc/