There are so many traditions that take place at a wedding. The first dance, bouquet toss, cake cutting, and grand exit, just to name a few, yet most people don't know the meaning behind them.  That's why we decided to start this series about the meaning behind a few different wedding traditions so we can all better understand why we partake in these events. Here is our second entry in the series that will explain the Wedding Cake Tradition.
Wedding Cake Tradition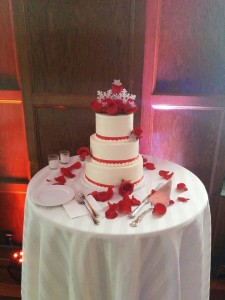 Did you know that the wedding cake tradition dates back to the ancient Roman time period? Back in those days, wedding ceremonies ended with a cake of wheat or barley being broken over the bride's head for good fortune. The newlyweds ate some of the cake bread crumbs, and guests then gathered the leftover crumbs for good luck. The Roman's wedding traditions made their way to England in A.D. 43 after they invaded Britain. Over time the wedding cake tradition evolved, and in Medieval England a wedding cake consisted of small spiced cake buns that were stacked high in a tower. The newlyweds would try to kiss over the stack of cake buns. If they could, it meant they would have a lifetime of wealth.
In the 1600s, wedding cake developed even further into what was called Bride's Pie. This was a large pastry filled with minced meats, fruits and nuts, which was decorated with pastry flowers. A ring was hidden in the pie and each guest would eat a slice of it.  The woman who found the ring was the next to be married. Bride's Pie was still served in some parts of England until the early 1900s. It wasn't until Queen Victoria's wedding to Prince Albert in 1840 that the modern day wedding cake was born. They had a four-tiered round cake with white icing.
There have been many different meanings behind wedding cake, most of them promised that cake shared with family and friends at a wedding would bring good luck, fortune and fertility. And most importantly, the bride who baked her own cake was asking for trouble! So that's why wedding cakes are now made by someone else, other than the bride.
We hope you enjoyed this blog entry on the wedding cake tradition and if you have questions about your wedding, or would like to know more about traditions, feel free to contact us here at Kalifornia Entertainment. We are well-versed in many different types of traditions, including ones from different regions around the world.