Your wedding day will be one of the most memorable days of your life, full of love, happiness, and lots of dancing! It's no secret that the dance floor is the most-used spot at a wedding (OK, maybe after the bar) and you'll want to be sure it's a welcoming environment to get people on their feet. Whether you've had your wedding playlist planned out since you were six or if you simply know what songs you DON'T want, a DJ is a great resource to help plan out your wedding entertainment needs.
Why Hiring A DJ Is Important
The Relationship
Hiring a DJ doesn't have to just be about the night of the wedding. Your wedding DJ will be your #1 entertainment resource throughout the planning process and the perfect sounding board for your questions or concerns. Schedule some time with your DJ to work through your playlist and establish a list of "do not play" songs – your DJ will be all ears, but is also there to offer any advice you may want or need!
The Talent
Anybody can rig up a speaker and connect an iPod on shuffle. While it may be cheap, who's there to prevent your embarrassing guilty-pleasure song from coming on? What happens if the battery runs out? Having a DJ at your wedding ensures constant music with smooth transitions throughout the night. Kalifornia Entertainment are not just push play DJ's like other companies employ. We mix and transition each song perfectly so it maintains a constant flow of energy and excitement the whole night. We're also experts at fielding song requests and keeping the groove going all night long by being able to read the crowd. This is something only club or bar DJ's have experience in as it's what sets us apart from the regular "push play" fade-to-fade dead air non-transitioning type of DJ.
The Flexibility
It's your wedding. We understand! A good DJ will be open to any and every preference of yours. Whether you're going for a chic 50's feel or a contemporary pop taste (and everything in between!), your DJ can put together a playlist that includes any flavor whatsoever – or you can even mix and match!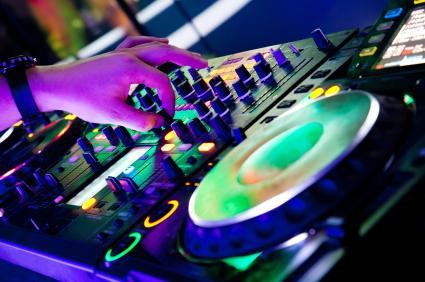 The Extras
With a DJ, not only are you supplied with a constant source of music and entertainment, but a DJ can also double as your emcee! Entertainment is the name, so entertaining is the game – DJs are quite charismatic and make great announcers for weddings. And you can't forget the awesome lighting services that are supplied in addition to DJing and being an emcee, which gets you more bang for your buck.
At the end of the day, your wedding belongs to you and your partner. The best thing you can do to ensure your perfect wedding (and a smooth planning process) is to select vendors that fit to your personality and your preferences. At Kalifornia Entertainment, we have professional DJs who have been performing weddings, private events, bar & club events for years – send us a message to learn more! We guarantee tired feet, happy guests, and lots of fun!