Are you planning your wedding, birthday party, corporate event, pool party, Sweet 16, school dance, or other event? Chances are, if you're reading this, the answer is "yes!" If you've already started to look for vendors, great! If you've already hired all you vendors and are now looking for a DJ, that's not so great. The good thing is, this information will help you in your search and give you tips and ideas you may not have considered in your search. Hold onto your contracts and let's get started! So here we go…..learn why you should Hire Your DJ First Not Last! is something you want to read!
Hire Your DJ First Not Last!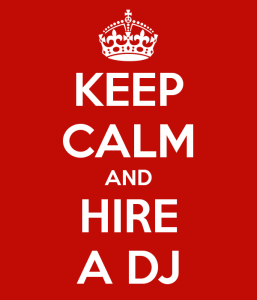 The DJ seems to always be the last on the list, which is a mistake! Why? Yes, every vendor and component of your event is important, but not all are equally important. If you're having a wedding or event, the very first thing you need to do is find a place to have it at. Yes, I said find a place, not hire DJ, first. You can't have your event or even hire a DJ, without first telling the DJ where your event will be. After you've found a place, next, find your DJ. Why? Because the DJ can truly make or break your event. A great DJ will set the mood you want, play the songs/genres you want, and overall, be the very person in charge of ensuring you and your guests have a great time! Yes, each vendor is unique and an important component to your event, but let's compare for a minute.
Have you ever went to a wedding and then a year later said, "Man, that grilled chicken and mashed potatoes at the wedding was amazing! I need their recipe"? Did you take a picture posing with the food or near the table arrangements? Think of the last wedding you attended, what kind of arrangements did they have? Unless you were a part of the wedding party or helped plan the wedding, chances are, you haven't even thought about the food or arrangements. Most people will remember the nice venue and how good of a time they had, dancing and having fun! The DJ truly makes your event memorable.
A bad DJ can also make your event memorable, but not the kind of memory you want, right? You don't want your guests to be bored and leave early. You've spent a lot of money on your wedding or event and this is your big day! You want everyone to have a great time and remember how much fun it was. Hire the DJ after you book the venue, since chances are, you're planning early. Remember a great DJ is always booked quickly! You can't call a month before and expect them to be available. Book your entertainment 6 months to 1 year in advance; you'll be glad you did!
Overall, the choice is yours, but take it from the professionals, book your entertainment early, you'll be glad you did! We hope this blog entry on why you should Hire Your DJ First Not Last! has been helpful and gives you important insight into why you should contact a DJ company the second you get engaged!
Kalifornia Entertainment provides music and entertainment for TONS of different types and styles of events every year! Contact us today for additional information or a not obligation quote!