Hello all!  Now that we are at the end of the first official week of 2019, I'm getting the chance to sit down and discuss Kalifornia Entertainment's Year In Review for 2018.  My final Rochester wedding was only a couple of weeks ago at the end of December and I've already had my first one for 2019.  I am confident in saying that this year is going to be an incredible one.  And going by how fascinating the first one was, that has set a very high bar and the precedent of how this year will go.  Many businesses slow down during the winter months and don't have too much going on between December and March but I'm thankful and blessed to remain busy all 12 months long and to be that high in-demand by clients.
Before I really dive into the Year In Review, I first and foremost want to express a deep and soulful thank you to all my 2018 Rochester Brides, Grooms, Clients, Friends, Colleagues, and most important…my wife!  So, let's get into it!
---
Year In Review
2018 had it's share of fun, happiness, firsts and challenges when it comes to Rochester Weddings.  It's been nothing but 5 stars and positive reviews between January to December and every single client that has booked Kalifornia Entertainment expressed nothing but contentment, delight and jubilation.  I maintain my mission of going above and beyond for every client and assuring that I over-deliver on my promises to them.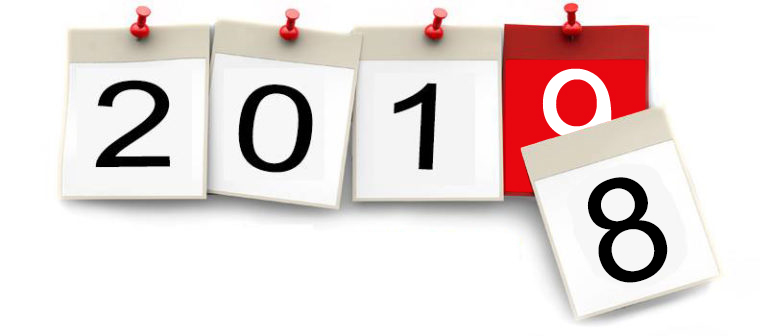 It's also been a year of challenges, both personal and professional.  From the professional side, there has been times where I had to sit back and think carefully how I was going to execute or perform something for a client, whether it was lighting, music, MCing, set up or other aspects of doing what I do for people. I welcome challenges because it keeps things exclusive, unique and fresh.  It also allows me to think outside of the box and do something that isn't done often, which I welcome whole heartily. One of the many things that sets Kalifornia Entertainment apart from other businesses and Rochester DJ's is that I am continuously searching for ways to stand out and offer certain services and action items that no one else does.  No one wants their wedding or event to be exactly like the next one.  So thinking through and coming up with new ways to do things or make events and reception stand out from the rest is what K.E. excels in.  That shows from not only positive reviews from clients but from all of the immaculate and talented vendors I work alongside of each and every weekend.
I mentioned that there has been challenges in 2018 from a professional and personal level. The personal side, which I won't get too much in depth with, involves my loving and beautiful wife.  This May will be our 2-year wedding anniversary and nothing could have prepared us for the situation that came into our lives a few months back. We weren't planning but my wife ended up pregnant and we lost the baby due to an ectopic pregnancy where she had to have emergency surgery to remove it and prevent a very bad scenario that could have occurred. In short, I came very close to losing my wife.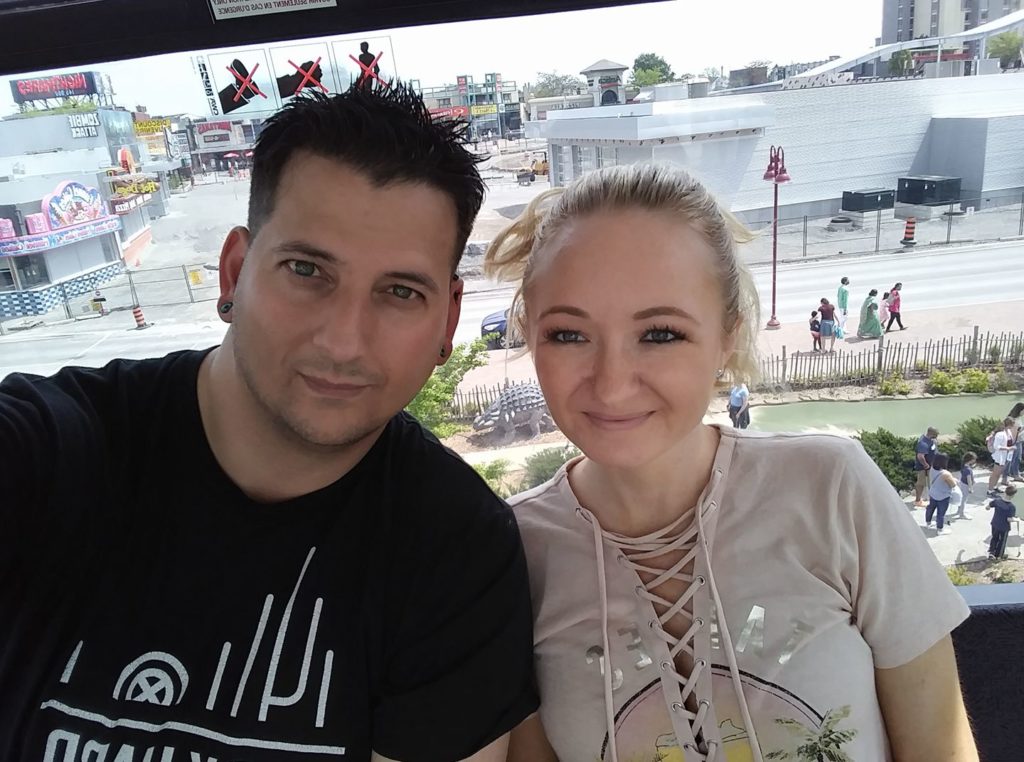 When situations like that happen in your life and you realize how close you are to losing someone you love and care about, it makes you step back and re-evaluate a lot of things.  When I do all of these weddings and events each weekend, I see so much love that is flooded into the rooms and with the way our world and society is going, it's nice to see all of that love even if it's for a short moment. I've learned to never take people for granted and to really live in the moment because you never know when things will go south and your life will change in a heartbeat.  I share advice similar to this with many of my clients and I think it means a lot to them.
Year In Review – Shout Outs
Ok, enough with the sappy stuff.  2018 brought me to a lot of venues that I previously worked at and even a couple of new ones. The year was definitely the year of country clubs as I worked at many familiar ones multiple times over the past 12 months and have become friends with a lot of awesome venue coordinators. Certain venues, I worked at 6, 7 and 8 times each last year.  It also brought me into other cities, such as Buffalo and it allowed me to do some pretty cool themed weddings. Some venues I want to give a special shout out (in no particular order) are:
Rochester Wedding Venues
NY Wine & Culinary Center
Webster Golf Country Club
Cobblestone Creek Country Club
Ridgemont Country Club
Kings Catering Party House
Shadow Lake Country Club
Avanti Mansion
Hyatt Regency Hotel
Double Tree Hotel
Penfield Country Club
Woodcliff Hotel
Harro East Ballroom
Glendoveers
Casa Larga Winery
Burgundy Basin Inn
La Luna
Deerfield Country Club
The Inn on Broadway
2018 also allowed me to work with some outstanding vendors as well (some are on my preferred vendor list).  All of these people and businesses share the dream of making sure that every client that books them, is satisfied and happy.  Again, in no particular order, I want to give a special shout out to all of these people who I had the distinct honor and pleasure of working side by side with. Without you, we couldn't have made so many sensational and divine memories with clients.
Rochester Wedding Vendors
Colburn Creative
First Look Photography
Productions By Tim
Bred For Beauty
Yeoman Photography
Jacksons Bakery
Siren Photography
Magic Moments Photography
The One Recordings
Stacie Mogavero Photography
Savoia Pastry Shoppe
C R Photos
Fruit Tree Studios
Bokeh Film Studios
Justice Flowers
Megan Brask Photography
Gruttadauria Bakery
Iggy McDonald Photography
Jennifer Costello Officiants
Premier Pastry
Flower City Nuptials
Shell's Sweets
The Cake Place
Momentology Photography
Geek Chic Floral Boutique
Simply Events
Jamie Lyne Photography
O'Livella Studios
Cake Poppin' Around
Marshall Arts Studio
ColemanFilms
Mad Hatter Bakery
Cheesy Eddies Bakery
John Larkin Photography
Sinful Sweets Bakery
Moved By You Videography
Year In Review – Recognition
It's been a year full of awards and recognition too.  I'm honored to have won the The Knot's Best of Weddings and Weddingwire's Couples Choice award once again.  It was also my 10th year in a row being a finalist in the annual Best of Rochester readers poll by City Newspaper.  There's a lot of trash talk in the industry by people who win these types of awards but I don't fall into the negativity and still feel honored to have won. It just shows the type of business I run and it's a testament to how happy I'm able to make my clients with each and every event I do. This is proved over and over again by holding strong with over 300+ five-star reviews, and by being the preferred DJ on 49 lists (vendors and venues).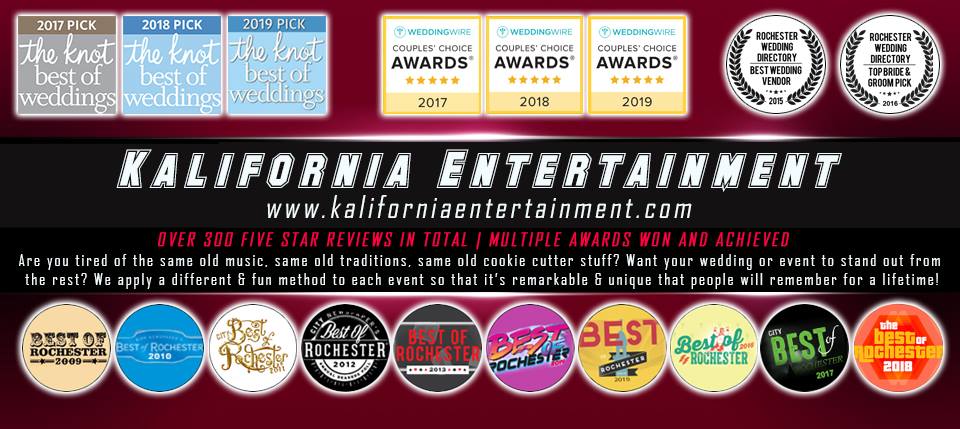 What does 2019 hold and what are my predictions?  Well, I see a lot of smiles, a lot of laughter, a lot of fun, some tears (of happiness), more challenges, and many marvelous memories that will last a lifetime. I forecast many many more five-star reviews, recommendations, referrals and making friends (both clients and vendors) that will last for a long time!  I also see some time off. Not a lot, but enough to be able to spend time with my wife, go on adventures/trips and make even more amazing memories that will last us both a lifetime of being married.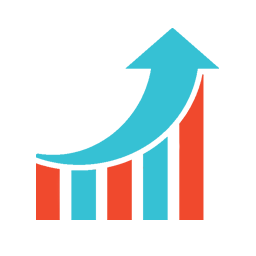 In conclusion, I again want to say thank you to so many magnificent clients who booked me in 2018, who have booked me this year and beyond. Being one of the most in-demand DJ's in Rochester, it has allowed me to book 2+ years out. That means 2019 is filled, 2020 is close to being filled and I am now taking bookings for 2021.  Clients have also gotten to the point where they are scheduling their receptions and events around my schedule, which I never in a million years would have thought I would get to that point in my business when I started.  Had that local multi-op DJ business not ignored me or snubbed me years ago when I had an interest in working for them, and forced me to do things on my own, it would have never got me to this point where I am now with Kalifornia Entertainment.  I'm sure my clients are pretty happy I went out on my own as well (laughter).
I also want to say thank you to the brilliant vendors and venues I had the opportunity to work side by side with.  2018 brought many new people into my life and I not only look forward to working with many of you again this year, but many new ones as well.  So cheers and let's have a superb 2019!
---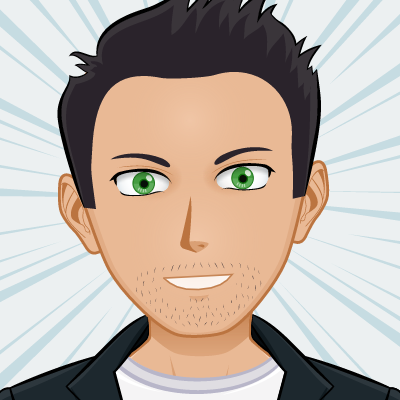 DJ Kalifornia (Joshua V.) is an 13 time finalist and 5 time winner in the annual Best of Rochester City News Poll as Best Rochester DJ, voted upon by thousands of people over the years as a finalist and winner. He was also a finalist in the WHEC's Channel 10 News weekly "Rochester Rocs" award as Best Live DJ, nominated in the annual prestigious "Roc Awards" as Best Rochester DJ, as well as a winner and finalist in the Democrat & Chronicle Choice Awards as Best DJ In Rochester.
Kalifornia Entertainment, as a company, is an annual multi-award winning business with achievements from The Knot, Weddingwire and other online wedding directories.  The business has achieved over 500+ five star reviews in total and has been placed on 50+ PROVEN preferred vendor lists. DJ Kalifornia was the leading long time successful resident DJ at Rochester's beautiful ONE and Two89 nightclubs in the East End District, as well as resident at many other nightclubs in the area. He was a long time monthly resident on Party 103…a worldwide radio station with millions of listeners and world renowned top global DJ's. You can see him play at other nightclubs all over as a special guest or headliner from time to time when not doing private events.
He currently writes for DJ Times magazine (now DJ Life Magazine), which is the biggest DJ specific world wide publication with millions of readers spanning across the planet on every continent and showcases the worlds best DJ's. His articles discuss how to get an upper edge over the competition and how to apply strong marketing techniques, strategies, social media, Public Relations and diversity in a way that places you as an industry leader and gain more business. The magazine featured him in a full article, in April of 2020. 
He's been a resident DJ at just about every major nightclub in the Rochester, NY area over the years (and has played all over elsewhere as a guest and resident DJ), was the founder and creator behind the Rochester Zombie Prom, Showcase of The Arts, One Night In Heaven Fashion Show, and many other popular large scale events around WNY. He has thrown hundreds of established and successful themed events, themed weddings (considered the best and #1 elite in Rochester for putting together unique themed wedding receptions) and is very well known through out many different social and business groups and circles in WNY. His experience, vision, knowledge and the ability to make your wedding or event stand out from the rest, puts him at the top and head of the industry that no one else can duplicate, when it comes to being your DJ or entertainment vendor of choice.